Form (feature[2] feed[1])
10 Tips for Optimizing Web Form Submission Usability. Web forms play a big part in every day web use.
If you build and/or run websites, chances are, you have a web form in it, whether it's a simple contact form or a rich and robust web app. There are several ways to make sure your web forms are optimized for your users. Note n°10 – Ergolab, ergonomie sites web. N°10 [04.12.2008] Acrobat.com et le message d'erreur du futur Source :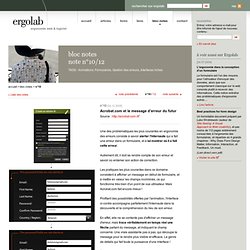 50 Useful jQuery Plugins to Enhance your Forms - Noupe Design Blog. Nov 23 2010 Here we present some useful plugins and tutorials that will let you create awesome forms for your websites — whether it's a sign up form or contact us form.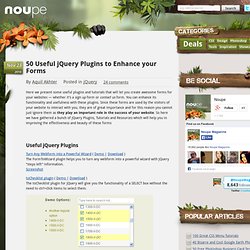 You can enhance its functionality and usefulness with these plugins. Since these forms are used by the visitors of your website to interact with you, they are of great importance and for this reason you cannot just ignore them as they play an important role in the success of your website. So here we have gathered a bunch of jQuery Plugins, Tutorials and Resources which will help you in improving the effectiveness and beauty of these forms. JavaScript - Form Validation. Advertisements Form validation used to occur at the server, after the client had entered all necessary data and then pressed the Submit button.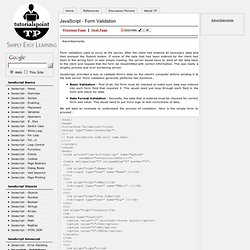 If some of the data that had been entered by the client had been in the wrong form or was simply missing, the server would have to send all the data back to the client and request that the form be resubmitted with correct information. TOOLBOX - Css - 51 Form Element Resources and Tutorials Using CSS And Javascript | Graphic and Web Design Blog -Resources And Tutorials. I featured many good looking contact forms some time ago – 91 Trendy Contact And Web Forms For Creative Inspiration, so you should know how looks good example.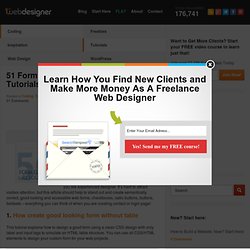 Now let's take a look how to create outstanding and beautifully designed form elements from scratch ourselves. Things can get tricky even if you are experienced designer. It's hard to attract visitors attention, but this article should help to stand out and create semantically correct, good looking and accessible web forms, checkboxes, radio buttons, buttons, fieldsets – everything you can think of when you are creating contact or login page! 1. IBGS - Html Css Javascript - ZURB – Making Forms Convert Through Awesome Inline Labels. Forms are everywhere on the web – it's the primary way users can interact with a web-based system.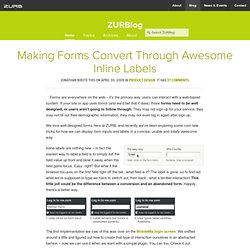 If your site or app uses forms (and we'd bet that it does) those forms need to be well designed, or users aren't going to follow through. They may not sign up for your service, they may not fill out their demographic information, they may not even log in again after sign up. We love well-designed forms here at ZURB, and recently we've been exploring some cool new tricks for how we can display form inputs and labels in a concise, usable and totally awesome way. BESTPRACTICES - ContactForm - Beautiful Forms – Design, Style, & make it work with PHP & Ajax " Noupe. Mar 09 2009 Forms needs a solid visual structure, a profound hierarchy of form elements (Fields and Labels), powerful techniques and Functionality (AJAX) to make the form look and work creatively.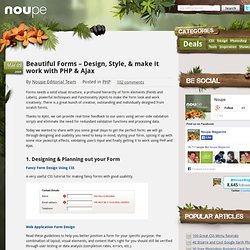 There is a great bunch of creative, outstanding and individually designed from scratch forms. IDEABOX - ContactForm - 91 Trendy Contact And Web Forms For Creative Inspiration | Graphic and ... This article showcases modern and interesting contact/web form solutions found around the Internet.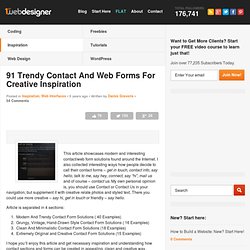 I also collected interesting ways how people decide to call their contact forms – get in touch, contact info, say hello, talk to me, say hey, connect, say "hi", mail us and of course – contact us. My own personal opinion is, you should use Contact or Contact Us in your navigation, but supplement it with creative relate photos and styled text. There you could use more creative – say hi, get in touch or friendly – say hello. Article is separated in 4 sections: Modern And Trendy Contact Form Solutions ( 40 Examples)Grungy, Vintage, Hand-Drawn Style Contact Form Solutions ( 16 Examples)Clean And Minimalistic Contact Form Solutions (18 Examples)Extremely Original and Creative Contact Form Solutions (15 Examples) IDEABOX - ContactForm - Web Form Design: Modern Solutions and Creative Ideas | Design Showcase ... Advertisement Web form is often the main communication channel between visitors and site owners.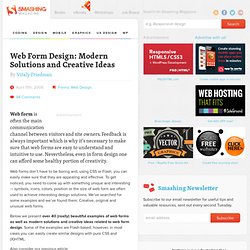 Feedback is always important which is why it's necessary to make sure that web forms are easy to understand and intuitive to use.
---