crossplatform ([1])
Get flash to fully experience Pearltrees
Pour éviter l'installation complète d'un système d'exploitation, et gagner du temps, vous pourrez trouver sur Sun xVM VirtualBox Virtual Disk Images ou encore sur VirtualBox Images , une cinquantaine de distributions Linux pré-installées, c'est-à-dire directement opérationnelles sitôt chargées dans le gestionnaire de supports virtuels. Ces images sont toutes au format Virtual Disk Image (*.VDI) et fonctionnent avec VirtualBox sous SunOS, OpenSolaris, Mac OS X, Windows, OS/2 et Linux. La liste des VDI comporte entre autres CentOS, Debian, Mandriva, OpenSUSE, Ubuntu, Xubuntu, Kubuntu, Puppy Linux, Slackware, Qimo for Kids…
references (crossplatform[1])
production ( cross platform )
Web Experience Toolkit (WET): Improving the Web through collaboration Presented by Paul Jackson , Treasury Board of Canada Secretariat, Government of Canada Date : Tuesday September 20, 2011 Time : 6:00pm Place : TheCodeFactory, 246 Queen St., Ottawa Abstract : The Web Experience Toolkit (WET) is a collection of open source tools and solutions that enable web developers to create and maintain innovative Websites that are accessible, usable, and interoperable. WET is collaboratively developed and maintained by both Government of Canada (GC) departments and external Web communities. This session will focus on the solutions developed through WET as well as the license model, processes, and collaboration framework that make it all possible.
Overview Windows XP Service Pack 3 (SP3) includes all previously released updates for the operating system. This update also includes a small number of new functionalities, which do not significantly change customers' experience with the operating system. This file is a CD image file for users who wish to create an update CD for Windows XP Service Pack 3, for example for offline installation by administrators. Note: Customers running Microsoft Dynamics Retail Management System (RMS) are advised to install a hotfix for a Microsoft Dynamics RMS issue prior to installing Windows XP SP3. DO NOT CLICK DOWNLOAD IF YOU ARE UPDATING JUST ONE COMPUTER: A smaller, more appropriate download for individual users is now available on Windows Update .
Download Modernizr 2.6.2 Use the Development version to develop with and learn from. Then, when you're ready for production, use the build tool below to pick only the tests you need.
Can we use HTML5 today? What can we do with it? Is it really going to kill Flash? You must have noticed a gradual increase in the frequency of these and similar questions being asked, debated and even answered. In my opinion, you must answer such fundamental questions yourself. The whole purpose of this article is to help you get started with some basic guidelines and easy to follow code templates.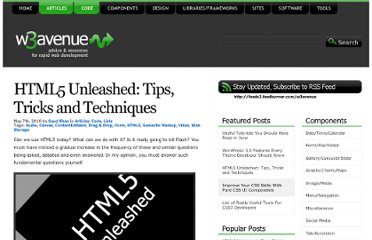 Published by Chris Coyier When working with HTML5 today, many of you know that you'll need to include the "HTML5 shiv" to ensure that CSS will recognize and be able to style those elements in browsers that aren't yet hip to HTML5. Credit for that to Remy Sharp, Jon Neal, John Resig and anybody else who contributed to that idea. Also for the benefit of those non-hip browsers, it's best to reset many of the HTML5 elements to block-level as they should be: Now we're all set to use and style HTML5 elements.