Lol
"POUSSEZ VOUS LES BIATCHS C'EST FREDO QUI DEBARQUE !!!!!" le babtou qui se ramène comme leonardo il tape la pose sur son p'tit titanic pour rentrer dans le ter ter à nogent sur seine c'est frédéric moreau aka fredo la friendzone qui fait son gossbo en mode "I AM THE KING OF THE WORLD LES FDP !!!" mais la vérité c'est qu'il a jamais trempé sa p'tite madeleine dans la verveine des zouz tmtc et là ce fut comme l'apparition de miley cirus il voit mais vla une grosse bombasse qui twerke sur le axe boat et il se dit asmeuk "toi ma p'tite gow j'vais te pécho izi !!!!!" et c'est marie arnoux la MILFterrieuse sauf qu'elle a un keum trop daaar !!!!!
Les boloss des Belles Lettres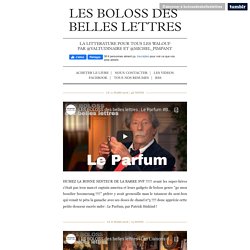 LSH Generator™ 3000 ® - (Navigation privée)
LOL annonces - Les petites annonces les plus LOL des zinternettes - (Navigation privée)
Soixante millions de graphistes ?
Topito : top listes et classements - humour, insolite, utile, et découverte !
Bien cordialement.
Poule de cristal | cfsl.net
DANS LA VIE LIBRE DE DROITS
PASSION NICHON
Status à la con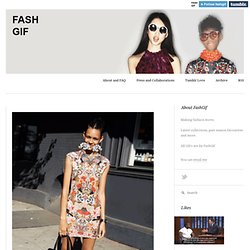 I'M EXCITED TO PRESENT THIS GIF AS PART OF TATE BRITAIN'S 1840s GIF PARTY. PICTURED ABOVE IS HARMONY IN GREY AND GREEN: MISS CICILY ALEXANDER 1872-4, JAMES ABOTT MCNEILL WHISTLER. THE YOUNG WOMAN PICTURED DECLARED SHE WAS "VERY TIRED AND CROSS" AT STANDING STILL ALL DAY SO I WANTED TO CAPTURE HER FRUSTRATION AND TEARS. TATE BRITAIN ARE CURRENTLY TAKING SUBMISSIONS FOR ANIMATED GIFs FOR ANY OF THE FIVE PAINTINGS LISTED HERE AND THE BEST PART IS THAT ALL GIFs WILL BE SCREENED ALONGSIDE THE ORIGINAL ARTWORK ON FRIDAY FEBRUARY 7. GET GIF-ING!
FASHGIF | MAKING FASHION MOVE
Staggering Beauty
The Perfect Woman
Next Level Gif Control
HOOOOOOOOOOOOOO!
Le Graphimse ça boom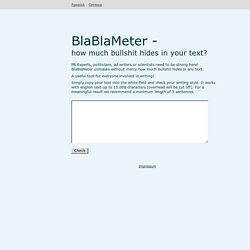 BlaBlaMeter - Bullshit detection tool
BlaBlaMeter - how much bullshit hides in your text? PR-Experts, politicians, ad writers or scientists need to be strong here!BlaBlaMeter unmasks without mercy how much bullshit hides in any text. A useful tool for everyone involved in writing! Simply copy your text into the white field and check your writing style.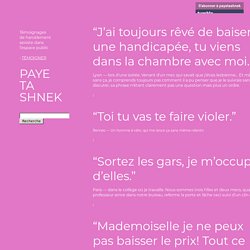 « Hey mademoiselle, vous avez la classe même en sortant des toilettes ! Je savais pas qu'une femme comme vous, ça allait aux toilettes ! » Versailles - en sortant des toilettes publiques « Hey mademoiselle, t'as une tête d'institutrice, j'aimerais bien que tu me tailles le crayon. »
PAYE TA SHNEK
Meowmania
Dites-le avec des fleurs
Pointer Pointer by @StudioMoniker
Sciences Personal Branling
Tu en as assez de ne récolter que du foutre sur ta timeline?Nous t'invitons à dénoncer les branleurs les plus compulsifs. Tu sais déjà très bien le faire sur les autres tumblr à succès de notre noble institution, et vous avez déjà commencé à les pointer de votre doigt suintant de semence.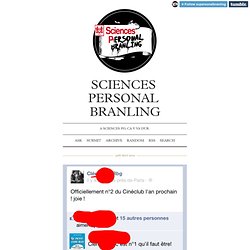 This Advertising Life. Le tumblr de la vie en agence de pub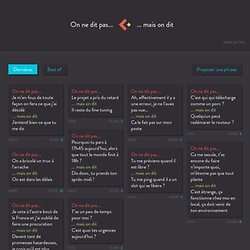 mais on dit…
On ne dit pas... Je m'en fous de toute façon on fera ce que j'ai décidé ... mais on dit J'entend bien ce que tu me dis Le projet a pris du retard Il reste du fine tuning
de_3714.swf (Objet application/x-shockwave-flash)
"25mg d'efficacité qui vont faire un tabac" — Nicorette, janvier 2012 À vrai dire, on ne sait pas ce qui est le plus étonnant dans cette accroche : avoir osé utiliser l'expression "faire un tabac" pour un médicament aidant à arrêter la cigarette, ou le fait que cela n'avait jamais été encore fait. Vivement la prochaine campagne, qui sera on l'espère "l'envie de cigarette, passez-la à tabac". Au passage, n'hésitez pas à visiter le blog La Plume à Poil, d'où provient la photo ci-dessus, qui décortique les mots au travers, entre autres, de slogans publicitaires et de titres de journaux.
L'Accroche du jour, bonjour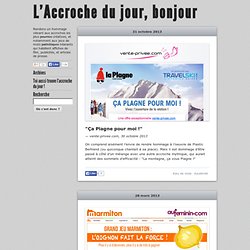 Hahahaha.fr
Premières phrases.
Homepage
High Expectations Asian Father plays on the stereotype of demanding, perfection-seeking Asian parents, as they push their children past the limits of endurance in matters of education and overall performance. The meme was developed and became popular in 2010. While being a stereotype, the meme is still popular with all people who have ever had someone push them to do better, though much of the humor lies in the perception of Asian parents, particularly of the first generation, pressuring their children to work harder and do better or suffer their wrath in the form of grave disappointment.
Ivre,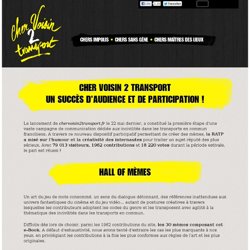 Cher voisin de transport
Le lancement de chervoisin2transport.fr le 22 mai dernier, a constitué la première étape d'une vaste campagne de communication dédiée aux incivilités dans les transports en commun franciliens. A travers ce nouveau dispositif participatif permettant de créer des mèmes, la RATP a misé sur l'humour et la créativité des internautes pour traiter un sujet réputé des plus sérieux. Avec 79 013 visiteurs, 1962 contributions et 18 220 votes durant la période estivale, le pari est réussi ! Un art du jeu de mots consommé, un sens du dialogue détonnant, des références inattendues aux univers fantastiques du cinéma et du jeu vidéo… autant de postures créatives à travers lesquelles les contributeurs adoptent les codes du genre et les transposent avec agilité à la thématique des incivilités dans les transports en commun.
Pipotronic
By Daily Mail Reporter UPDATED: 09:50 GMT, 14 July 2011 Animal lovers, look away now! These pictures show the misfortune of some of the world's best known creatures ranging from lame leopards to pitiful polar bears! The pictures were all posted up a Facebook page aptly named Badly Stuffed Animals and has a current following of 2,707. Cat got your tongue?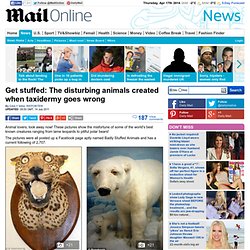 Taxidermy animals gone wrong