Musica!
FERALISTE - Janvier 2013. C CP Artiste Album Label / Distributeur 1 1 CONCRETE KNIVES Be Your Own King Bella Union / Cooperative 2 66 FRUSTRATION Uncivilized Born Bad 3 9 MELODY'S ECHO CHAMBER Melody's Echo Chamber Domino / PIAS 4 12 SKIP AND DIE Riots In The Jungle Crammed 5 10 KENY ARKANA Tout tourne autour du soleil Because / Warner.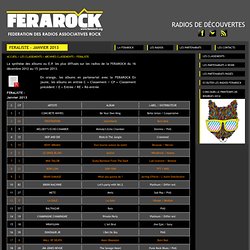 Outils en ligne pour créer ou mixer de la musique.
Soul/Funk/World/Others. Rock/HxC/Others. Electro. Famous People With Vinyl | buzzbrewery.com. MUTANT SOUNDS. Superette (à la tête du client) Le blog de ringard willycat. Mangedisc. Pour le Record Store Day, Sub Pop sort un sampler de son chapeau. Zik.
---