Funny stuffs
The Worst Album Covers Of 2011: The Results
Les Robins des Bois - thérapie de groupe
CRAPPY TAXIDERMY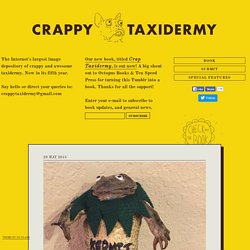 It's been in the works for almost two months, but I'm very pleased to officially announce that Crappy Taxidermy is pairing up with Octopus Books to publish a humor book that will be released this upcoming Fall. If you would like to get updates about the book, titled Crap Taxidermy, subscribe here. Also, if anyone has any fantastic taxidermy shots they would like to submit to be considered for the book, don't be shy about shooting me a FB or Tumblr message. Photo via Pinterest
how to snap like a diva
Clip de la Semaine - Heart2Heart, Facebook Official Dimanche, 16 Octobre 2011 Le doute n'est plus permis. Le Jugement Dernier arrive. Le monde qui a fait naître les Backstreet Boys et la kpop va périr dans les flammes de ses propres créations. Les Cavaliers de l'Apocalypse sont là et ils s'appellent Heart2Heart.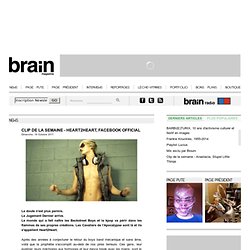 Clip de la Semaine - Heart2Heart, Facebook Official
Ten Album Covers Improved by Cats
How to Properly Hide Booze in Your Facebook Pictures | SadAndUseless.com
Foutaises (court metrage de Jean-Pierre Jeunet)
Dschinghis Khan - Moskau
Unloved Thrown Out and Abandoned Creations by by BeatUpCreations
Texts From Last Night
Chaîne de pingu
MIRE magazine
Yosemitebear Mountain Giant Double Rainbow 1-8-10
petit concours - www.littlebirdy.fr
Cinéma & TV Musique Loisirs & Culture Déco & Cuisine Mode & Beauté People High Tech Business Sport Le blog que vous cherchez n'est plus accessible depuis cette adresse. Vous pouvez le consulter à l'adresse suivante : littlebirdy.over-blog.com Liste des articles du blog littlebirdy.over-blog.com :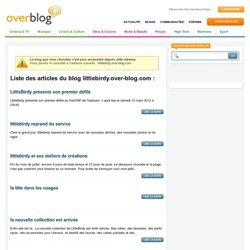 Matters of Importance
Si la pub vous rase... - Chienne de pub :: Le blog de la pub et de la comm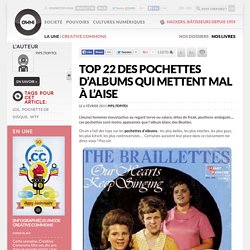 (Jeune) hommes moustachus au regard torve ou salace, têtes de freak, positions ambiguës..., ces pochettes sont moins apaisantes que l'album blanc des Beatles. On en a fait des tops sur les pochettes d'albums : les plus belles, les plus moches, les plus gays, les plus kitsch, les plus controversées… Certaines auraient leur place dans ce classement me direz-vous ? Pas sûr.
Top 22 des pochettes d'albums qui mettent mal à l'aise » Article » OWNI, Digital Journalism
Monty Python - Salad Days
Organ Donor
Dean Morris Cards, Greeting Cards, Keyrings & Fridge Magnets
Rowan Atkinson One Man Show VOSTFR Sketch 10 - une vidéo Funny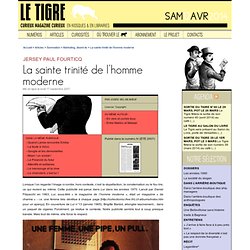 La sainte trinité de l'homme moderne
Mis en ligne le lundi 17 septembre 2007. Lorsque l'on regarde l'image ci-contre, hors contexte, c'est la stupéfaction, la consternation ou le fou rire, ce qui revient au même. Cette publicité est parue dans Lui dans les années 1970. Lancé par Daniel Filipacchi en 1963, Lui, sous-titré « le magazine de l'homme moderne », était un magazine « de charme » - i.e. une femme très dévêtue à chaque page [http://collectionlui.free.fr/LUI-albums/index.htm pour un aperçu].