Blogs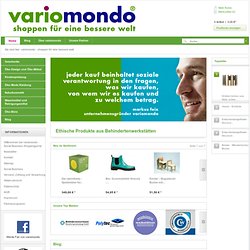 Ethische Produkte aus Behindertenwerkstätten bei variomondo
Blog: Oxfam nun auch bei variomondo Oxfam Deutschland e.V. ist eine unabhängige Nothilfe- und Entwicklungsorganisation und wird nun auch von variomondo unterstützt.
In Tabeas flat share they needed a place to fix important messages, so she quickly decided to create a pin board. Tabea says: "I got those two old frames offered at the flea market. In addition I had some old magazines with nice pictures that I wanted to reuse and our flat shre needed a small pin board. I filled the frames with discarded crinkled cardboard and the pictures. I bolstered the backside with some packaging tape."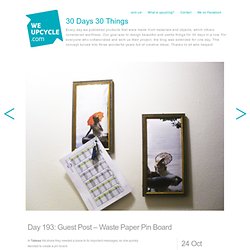 30 Tage 30 Dinge
Der Frühling schenkt uns Herzklopfen und unstete Träume Schatzsucher auf Reisen Edelsteine im Kopf Im Grün der Alleen spielen die Hunde lächelt ein Schöner teuflische Klänge verwirren die Nacht Bald hängen die Kissen über der Leine winken in der Sonne über die Hügel hinaus aufs Land Dort wogt das Korn auf warmer Erde krabbeln die Käfer tanzt ein Windhauch auf unsrer Haut Und begräbt unsre Liebe einst der Winter dann bleibt mir ein Stübchen voller Erinnerung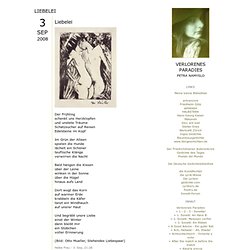 Verlorenes Paradies: Liebelei
By V.S.AtbayDon't just lay there like a piece of meat! If you can't sleep at night... you're not alone. Here is a list of helpful ideas to help pass time and to help you remain productive. It's time well wasted! 1) Read a Book (one that has the potential to put you to sleep)2) Make a music Cd for someone. (It's Priceless!)
TIME WELL WASTED: 100 Things To Do When You Can't Sleep.  - VS Atbay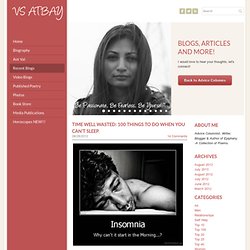 SocialDocumentary.net | Create and Explore Social Documentary Photography Websites
Blueeyes Magazine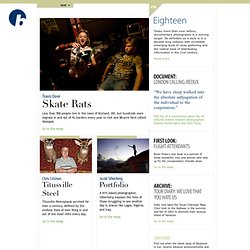 Today more than ever before, documentary photography is a moving target. Its definition as a style is in a decade-long collision with incredible emerging tools of news gathering and the radical ease of distributing information in the 21st century. Read more Brian Finke's new book is a portrait of those wonderful men and women who help us fly the (occasionally) friendly skies.
Aboverwaltung
Gründungsjahr 1990ISSN 0945-2095 Chefredaktion Jakob Augstein (V.i.S.d.P.)Philip GrassmannJana Hensel Verantwortliche RedakteureMichael Angele (Kultur, Alltag)Jan Pfaff (Stv.)Jan Jasper Kosok (Online, Community) Susanne Lang (besondere Aufgaben) RedaktionUlrike Baureithel (FM*), Matthias Dell (FM), Julian Heißler, Lutz Herden, Michael Jäger (FM), Christine Käppeler, Katja Kullmann (FM), Maxi Leinkauf, Juliane Löffler, Felix Werdermann GestaltungJana Schnell (Art Direction)Maximilian SauerbierFelix VelascoNiklas Rock (Bild)
Impressum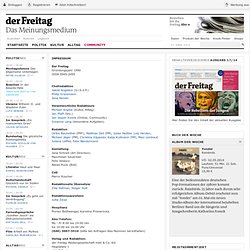 BBC - A History of the World - Programmes
France Picture -- Provins Wallpaper -
visual stimulation
Deep Sleep Magazine
FILE Magazine - Unexpected Photography.
Missing Persons. Every once in a while, due to the vagaries of Gmail or our own sheer incompetence (usually the latter), we lose track of the artist behind a photo that we want to publish. Fortunately, this is a rare occurance, but we still have a few lonely strays that we would like like to match up with their owners. Check out our "Anonymous" contributions and help us give the photographers the credit they deserve.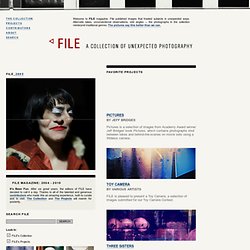 Photography
Art of Love : Erotic Art , 3D Art & Nude Photography
We declare the world as our canvas16 beloved Street Art Photos – June 2012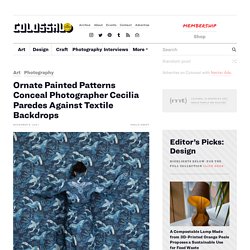 Colossal | An art and design blog.
Remember Summertime Scrap Tires Sailing Hay Bales Summer Toboggan Run Isar Nuclear Power Plant
www.pling.de - pling - Finanzierung von kreativen Projekten!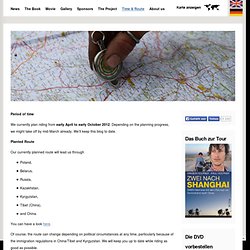 Time & Route | Berlin Two Shanghai
Period of time We currently plan riding from early April to early October 2012. Depending on the planning progress, we might take off by mid-March already. We'll keep this blog to date. Planted Route Our currently planned route will lead us through
BuzzFeed
Ten years after this cult classic film's release, Wood admits to Nikki Reed, "I thought you were so gorgeous and fun […] there was something about you." This really is as terrifying as it sounds. True investigative reporting. Maybe you can incorporate some of them to your wedding. Or maybe you can do all of them just in case. Rebekah Gregory and Pete DiMartino were at the finish line of the Boston Marathon when the bombs went off.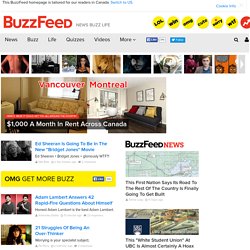 Ohrenkuss