Wingnuts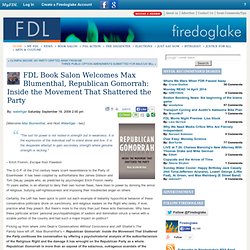 [Welcome Max Blumenthal, and Host Watertiger - bev] "The lust for power is not rooted in strength but in weakness. It is the expression of the individual self to stand alone and live.
FDL Book Salon Welcomes Max Blumenthal, Republican Gomorrah: Inside the Movement That Shattered the Party
Reagan Revolution Home To Roost -- In Charts
(This post was originally published June 16, 2010) It seems that you can look at a chart of almost anything and right around 1981 or soon after you'll see the chart make a sharp change in direction, and probably not in a good way. And I really do mean almost anything, from economics to trade to infrastructure to … well almost anything.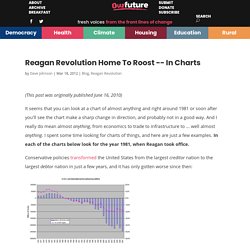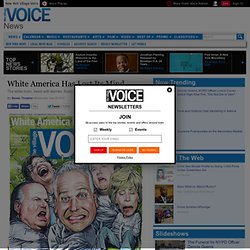 White America Has Lost Its Mind
About 12:01 on the afternoon of January 20, 2009, the white American mind began to unravel. It had been a pretty good run up to that point. The brains of white folks had been humming along cogently for near on 400 years on this continent, with little sign that any serious trouble was brewing.
Going Rogue: An American Life by Sarah Palin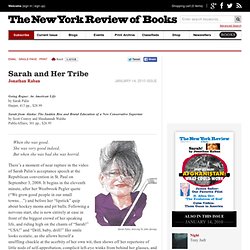 Sarah and Her Tribe - The New York Review of Books
Fox manipulates video to attack Obama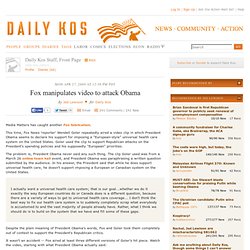 Media Matters has caught another Fox fabrication.
If conservatives don't want to be seen as bitter people who cling to their guns and religion and anti-immigrant sentiments, they should stop being bitter and clinging to their guns, religion and anti-immigrant sentiments.
The GOP: divorced from reality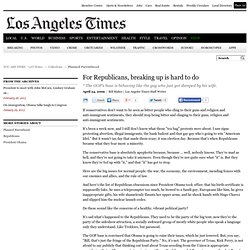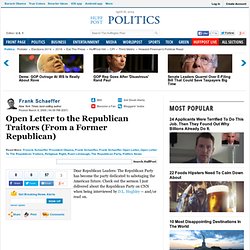 Dear Republican Leaders: The Republican Party has become the party dedicated to sabotaging the American future.
Frank Schaeffer: Open Letter to the Republican Traitors (From a Former Republican)
Bush Proposes Budget With $400B Deficit, Education, Health, Housing And Anti-Poverty Programs Face Budget Squeeze In $3 Trillion Blueprint
US President George W. Bush 2007/9/20 AP The spiraling growth of Medicare and the high cost of renewing President Bush's tax cuts are squeezing popular education, health, housing and anti-poverty programs in the budget blueprint that he hands lawmakers Monday. Even with difficult-to-digest proposals to curb Medicare costs and kill programs to repair dilapidated public housing, fund community action agencies and provide food to the elderly poor, Mr. Bush's $3 trillion budget will project deficits around $400 billion this year and next.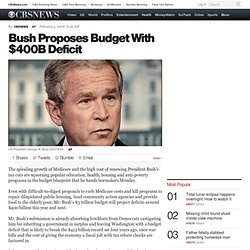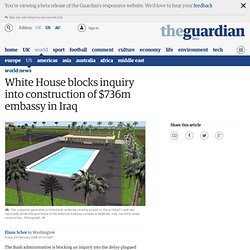 White House blocks inquiry into construction of $736m embassy in Iraq | World news
This computer generated architectural rendering recently posted on the architect's web site reportedly shows the pool house in the American Embassy complex in Baghdad, Iraq, currently under construction. Photograph: AP The Bush administration is blocking an inquiry into the delay-plagued construction of the $736m US embassy in Baghdad, a senior Democrat in Congress said today. Henry Waxman, who is chairman of the oversight committee in the House of Representatives, asked US secretary of state Condoleezza Rice today to explain why her department certified the embassy as "substantially completed" in December despite inspections that reveal continued deficiencies in the facility's water, fire alarm and kitchen systems. The Baghdad embassy, which stands to become the largest US diplomatic facility in the world, had an original opening date of mid-2007.
A new study out of Yale University confirms what argumentative liberals have long-known: Offering reality-based rebuttals to conservative lies only makes conservatives cling to those lies even harder.
Dan Sweeney: There's No Arguing With Conservatives ... No, Seriously, Scientific Studies Prove It
Eschaton
Since it's the controversy of the day, let me make my views more clear.