Shopping
Home
Absinthe. Consumer. Shipping. Savings. Monin Product Portfolio - whole range of syrups, mixes and concentrates. Publix. General Electric Wireless Home Lighting Control Programming Kit (White) at Buxr.com. Using the Web for Maximum Holiday Savings | All Random Stuff. You already have your Black Friday ads in hand and now you are preparing the tent and BBQ grill for the pre-Friday camp out.
OK, so maybe you don't go that far… but you do want to save as much as you can, since your gift list has increased, while cash in the bank has decreased. Here are some websites that help you to save money on your Holiday gift giving. Enjoy! Research. Sun and Moon Jars. Retsu watches The Worlds Smallest LED Wristwatch. Just 8 mm thin and weighing only 40 grams, Retsu is a third of the weight of most other LED watches and is the ultimate in lightweight, slimline LED watch design.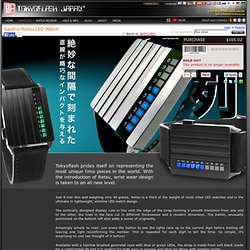 The vertically designed display runs in line with the edge of the strap forming a smooth transition from one end to the other, the lines in the face cut in different thicknesses add a modern dimension. The button, unusually positioned on the bottom left also adds a sense of originality. Amazingly simple to read, just press the button to see the lights race up to the current digit before trailing off leaving one light reconfirming the number. This is repeated for each digit to tell the time. 2Jane Co. - Home Page. Http--www.lasermonks. MikWright - greetings that provoke. Welcome to Archie McPhee Online. Half.com. No Junk Free Stuff. Totally Free Stuff.
---