IIS
Microsoft Web Platform Installer The Microsoft Web Platform Installer (Web PI) is a free tool that makes getting the latest components of the Microsoft Web Platform, including Internet Information Services (IIS), SQL Server Express, .NET Framework and Visual Web Developer easy. The Web PI also makes it easy to install and run the most popular free web applications for blogging, content management and more with the built-in Windows Web Application Gallery.
Windows Web App Gallery - Install an App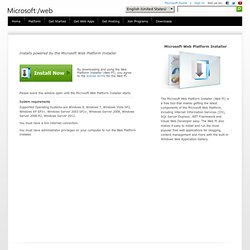 Top 10 IIS Tips
As an IIS administrator it sometimes gets downright annoying to have to fend off all the insults from Apache admins who claim innate server superiority. Generally, the discussion about Web administration starts with all the various security holes that plague IIS and the negative press the platform has garnered over the last year. Then it invariably moves to a discussion about how Netcraft and other stats sites show Apache as the dominant server on the Web, how a certain big site uses Apache, or how there are so many cool modules to add to Apache . Pointing out that scads of non-identified corporate in-house servers run IIS; that it, too, is a free server (as it comes with the operating system); or that there are in fact plenty of cool add-ons for IIS (including many that provide source code ) does little to dissuade these server chauvinists from their opinion.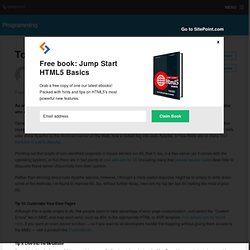 iis, getting started