ACTA
ACTA is dead: EU abandons referral to top court for ruling. Green MEPs cheer after the European Parliament voted down the controversial Anti-Counterfeit Trade Agreement.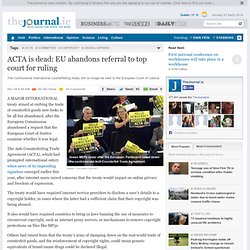 Image: Christian Lutz/AP A MAJOR INTERNATIONAL treaty aimed at curbing the trade of counterfeit goods now looks to be all but abandoned, after the European Commission abandoned a request that the European Court of Justice examine whether it was legal. The Anti-Counterfeiting Trade Agreement (ACTA), which had prompted international outcry when news of its impending signature emerged earlier this year, after internet users raised concerns that the treaty would impact on online privacy and freedom of expression. European Parliament Official In Charge Of ACTA Quits, And Denounces The 'Masquerade' Behind ACTA. The EU Is Ready To Sign Anti-Piracy ACTA Treaty. IRELAND IS TO sign a controversial international agreement tomorrow which promises a major international crackdown on the trade of counterfeit goods – and illegal internet filesharing.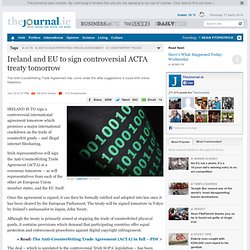 Irish representatives will sign the Anti-Counterfeiting Trade Agreement (ACTA) at a ceremony tomorrow – as will representatives from each of the other 26 European Union member states, and the EU itself. Once the agreement is signed, it can then be formally ratified and adopted into law once it has been cleared by the European Parliament. ACTA-Anti Counterfit Trade Act.
---