Online Games
Crypt Raider - Puzzle Games at Miniclip
Mysterious Balls
247 Mahjong
Games - Free Online Games at Addicting Games!
pool and arcade
Point and Click Games — Free Online Escape Games,Adventure Games, Scary Games, Puzzle Games Online, Walkthroughs & Hints.
Escape Games 24 - Play Room Escape Games, Point and Click Games
Stickman Games | Play Online Stickman Games | Stick Games - Stickmen Games
Room Escape Games
Room Escape games, Point'n'Click games, Puzzle games, walkthroughs and more Free Web Games at FreeGamesNews.com
Action Games - Games at Miniclip
Agon - The Mysterious Codex Walkthrough - Adventure Lantern
Episode 1: London Scene You will start the game in your office. Take a look at the papers lying at the corner of your desk.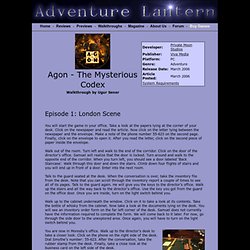 M&M'S® Home
Play Infocom Adventures Online These pages use Zplet by Matthew Russotto. ZPlet is open source, Artistic License. The source is hosted on SourceForge.
Play Infocom Adventures Online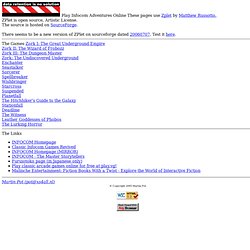 -TRAPPED-
Mystery Games - SLEUTH
Urban Dead - A Free Massively Multi-Player Web-Based Zombie Apocalypse
Card Games
Online Mystery Games
Free Online Games, Free Games, Play Games at Fupa Games
Free Online Games | Free Games | Online Games | Pogo Games
Game Tips