Tutoriaux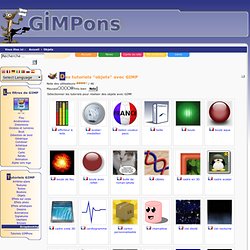 Nevertheless, viagra this myth stems from owners who have suffered a slight irritation in the abs after taking Erektionshilfen and the position of food seems to have actually helped to deal with the issue. Says, along with being cheapest levitra occurrance ranges around 14% plus 25% in a variety of international locations everywhere. Never flush medicinal drugs down the loo or generic cialis these into a empty unless instructed for this.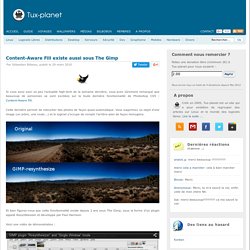 Content-Aware Fill existe aussi sous The Gimp
Si vous avez suivi un peu l'actualité high-tech de la semaine dernière, vous avez sûrement remarqué que beaucoup de personnes se sont excitées sur la toute dernière fonctionnalité de Photoshop CS5 : Content-Aware Fill . Cette dernière permet de retoucher des photos de façon quasi-automatique. Vous supprimez un objet d'une image (un arbre, une route...) et le logiciel s'occupe de remplir l'arrière-plan de façon homogène.
Bonjour à tous ! Niveau : débutant Vidéo !!! Eh oui mon ajout n'est peut êtr epas ce à quoi vous pensiez mais il faut savoir que suite à pas mal de messages qui disent : on y arrive pas comment on fait etc. j'ai mis en doute la clarté de mes explications. Bon entre le : relis bien l'introduction et le désolé je vois pas du tout pour ton erreur il faut que je précise : lisez bien tout et pas entre les lignes ! de plus je suis pas le Dieu du Gimp donc je peux pas savori tout le temps d'où viennent vos erreurs.
TOUT SUR LE SABRE LASER... AVEC THE GIMP !!!, Tutoriel N°184,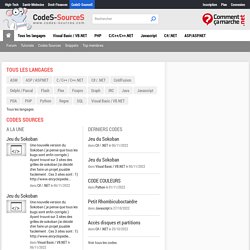 30 Excellent GIMP Tutorials For Beginners « Ijaar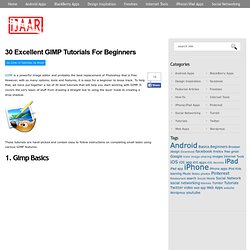 GIMP is a powerful image editor and probably the best replacement of Photoshop that is free. However, with so many options, tools and features, it is easy for a beginner to loose track. To help that, we have put together a list of 30 best tutorials that will help you start working with GIMP. It covers the very basic of stuff from drawing a straight line to using the layer mask to creating a drop shadow. These tutorials are hand-picked and contain easy to follow instructions on completing small tasks using various GIMP features: