Anime/manga
Ten Anime Films You Should See Before You Die. One of the most surprising, and gratifying, things that has happened since I started my blog, Tim Maughan Books, a year or so ago is the positive feedback I've had for the anime reviews—especially from people I know are far from being massive fanboys like myself.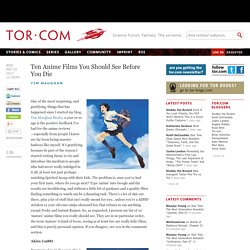 It's gratifying because its part of the reason I started writing them; to try and introduce the medium to people who had never really indulged in it all, at least not past perhaps watching Spirited Away with their kids. The problem is, once you've had your first taste, where do you go next? Type 'anime' into Google and the results are bewildering, and without a little bit of guidance and a quality filter finding something to watch can be a daunting task. Watch Dragonball Z GT AF Kai Episodes & Movies & DBZ Remastered Videos.
Watch Bleach Episodes English Subbed & Dubbed Movies Online.
---