Design Sponge
Evita's spooky silhouette candleholders. D*s reader evita smith of the happy heathen sent over this beautiful halloween diy project inspired by the silhouettes of carew rice. i'm usually not a fan of halloween decor (i don't like orange and black together for some reason) but these manage to look holiday-appropriate and sophisticated, so i'm sold!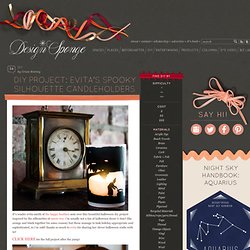 Thanks so much to evita for sharing her clever halloween crafts with us! CLICK HERE for the full project after the jump! Made with love: quick gift wrapping ideas. Christmas is in 3 days and I hardly have time to properly feed and bathe myself, let alone write a thoughtful and complicated DIY project.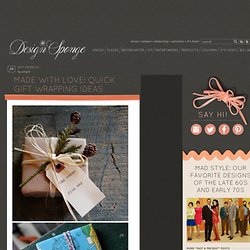 So instead, I'm taking you home with me to wrap some presents. True fact- I have never purchased wrapping paper in my life, it seems so unnecessary when my scrap paper pile is always sky high. I have a proven 3 step method for wrapping presents, a simple paper found at home, a creative ribbon substitute with a tied on embellishment, easy and guaranteed cute every time! -amy m. Karen's coffee can lanterns. The nights are warming up here in northern ca, so i'm eager to tackle this lantern diy project from karen at maggiemakes. named after her adorable black lab, karen's blog primarily focuses on crafts for around the home and provides great instructions and photos. i can't wait to grab a hammer and a can and give it a go. thanks karen!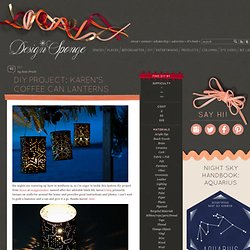 -kate CLICK HERE for the full how-to after the jump! Summer may have skipped my part of the globe this year but that hasn't stopped me from dreaming of those long warm summer nights outside relaxing with friends. when summer decides to come our way i will be ready to enjoy those nights with these rustic coffee can lanterns. inexpensive, fun, simple to make and customize, they add the perfect decoration for a late night BBQ with a group of friends or a night of gin and tonics with the one you love. try our three designs or create your own, with a variety of tools the possibilities are endless. -karen. Aunt peaches' straw cluster chandelier. Believe it or not, I have a drawer full of old drinking straws — superfluous craft supplies are an occupational hazard.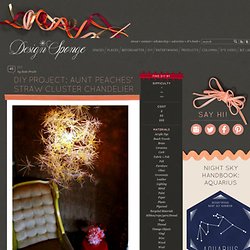 So I was thrilled to see this straw chandelier project come across my desk, because now I can use them for something beautiful! As those of you who saw Aunt Peaches' coffee filter flowers know, she is a genius when it comes to creating elegant designs out of mundane materials; so good, in fact, that often you can't tell what the material is at first glance. Vintage arrow valentine. A good girlfriend of mine has an amazing vintage arrow collection.
She displays them all in her home on the wall and bunched together in containers. This February, I decided to whip up a Valentine's Day DIY inspired by her collection. The big day of love is only five days away, but luckily that's plenty of time to make some cute and easy arrows for your sweetie. Katie's glass-jar moroccan lanterns. I'm getting a little tired of the winter weather and will take just about any opportunity to daydream about the sunny warm days ahead.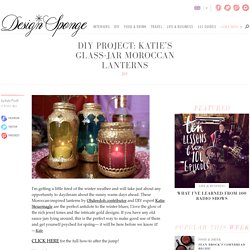 These Moroccan-inspired lanterns by Ohdeedoh contributor and DIY expert Katie Steuernagle are the perfect antidote to the winter blues; I love the glow of the rich jewel tones and the intricate gold designs. If you have any old sauce jars lying around, this is the perfect way to make good use of them and get yourself psyched for spring— it will be here before we know it! —Kate. "kokedama" string garden.
The days are getting longer, and the sun is shining more; I can't think of a better time to get my hands into soil and play around with some fun plant experiments for spring!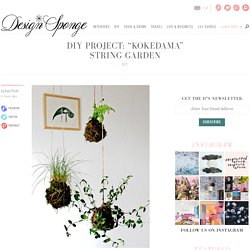 I've seen kokedama — Japanese moss balls — looking great hanging in homes, but I never realized how easy they are to create. Netherlands-based designer and all-around super-creative Aura Scaringi made this simple tutorial for crafting your own hanging kokedama garden using a combination of peat soil and akedama, or bonsai soil. Like all of Aura's work, the results are lovely — I can't wait to try it out for myself. Cobbler's stand candle holder. When the day comes to a close during winter, I find myself inside with my laptop, but that changes as the days get longer and the nights get warmer.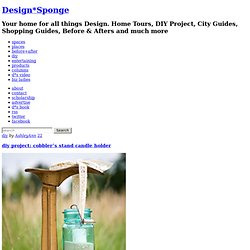 There aren't many things more relaxing than watching the sun set from the view of my front porch on a warm summer night. Candle light flickering just adds to the peaceful mood. The thing about candles and being outside is that you always have to keep wind in mind. This simple candle holder made of a cobbler's shoe stand and mold is heavy and strong enough to withstand the wind, and it adds an eclectic, romantic feel to a basic candle in a mason jar.
Felt craspedia (a.k.a. billy buttons) There was a time — and maybe we're still in it — when almost every stylish home contained a vase of craspedia, also known as "Billy Balls," "Billy Buttons," and a few other terms I'm not aware of.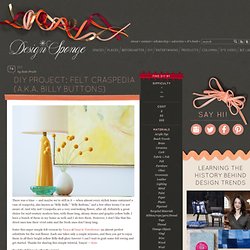 And why not? Craspedia are a very cool-looking flower, after all; definitely a great choice for mid-century modern fans, with those long, skinny stems and graphic yellow balls. I have a bunch of them in my home as well, and I do love them. Antiqued glass votive. The way antique glass alternates between absorbing and reflecting light always catches my eye, even on a small piece like a votive or a frame.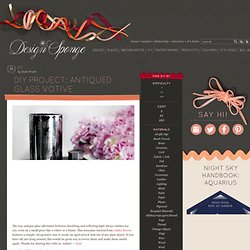 This awesome tutorial from Ashley Brown features a simple, inexpensive way to create an aged-mirror look out of any glass object. If you have old jars lying around, this would be great way to revive them and make them useful again. Thanks for sharing this with us, Ashley! — Kate Read the full how-to after the jump! Vintage-style brass pendant lamp. After seeing this perforated brass pendant lamp by Holly Rose, I decided I must take a class in metalsmithing — it seems so cool! I've just come around to brass recently, and now I love it!
Holly has given simple brass sheets a whole new look by cutting out a fun polka dot pattern and turning them into a double-tiered chandelier for her hallway. You may remember Holly's love of gilded home decor from her awesome "carmageddon-inspired" bedroom wall DIY we posted a while back. She's clearly on a roll with the gold, and I like where it's going. Thanks for sharing, Holly! Salt + coffee watercolor technique. I've been painting ever since I was little, but somehow, watercolors never remained in my rotation for very long. It's a shame because watercolor techniques can produce beautiful painterly effects, and some of my favorite artists these days work in the medium. Luckily, this watercolor tutorial from Michelle requires no previous experience; it uses simple household materials like coffee and salt to create cool visual effects in the application of the paint.
Not only are you learning how to make an original piece of art, but you can also use Michelle's technique to give maps, prints and paper of all kinds an unusual, antique look. Thanks for sharing, Michelle! — Kate.
---