Informatics
StormDriver - Pre-register
smarter online research - annotate, organize & collaborate on web pages
10 Free Wiki Software Platforms – Choose the Best One To Build You Wiki
All of us are aware of Wikipedia, an ocean of information. It is basically a wiki, which allows easy creation and and editing of all the pages by all the visitors which either can submit as normal visitors or they just need to create an account and edit the pages or create some content. Wikis can be edited by using a normal Web Browser, without any extra plugin or add-on or extension. Some sites provide WYSIWYG editor to edit their wiki while others ask us to learn a simple markup language, that depends on what Wiki Software is used by that site to create the Wiki and what are their administrative settings.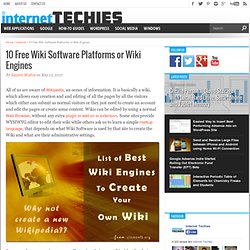 5 Free Web 2.0 Brainstorming Tools
personalbrain-compared
Twitter for Business - Complete Guide | TribalCafe
Mindmapping resources
Features | WebNotes
PatentSafe Personal Edition | The affordable ELN for 2 or 3 scientists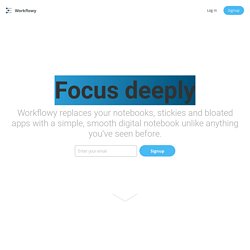 WorkFlowy has become one of three tabs that I keep open in my browser, along with Gmail and Google Calendar. ~ Matt Cutts Head of Webspam, Google
GADM is a spatial database of the location of the world's administrative areas (or adminstrative boundaries) for use in GIS and similar software. Administrative areas in this database are countries and lower level subdivisions such as provinces, departments, bibhag, bundeslander, daerah istimewa, fivondronana, krong, landsvæðun, opština, sous-préfectures, counties, and thana. GADM describes where these administrative areas are (the "spatial features"), and for each area it provides some attributes, such as the name and variant names. The current version is 2.0 (January 2012)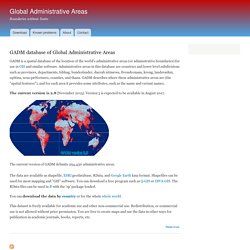 News January 13, 2014: Released DotSpatial 1.6. Details here.
DotSpatial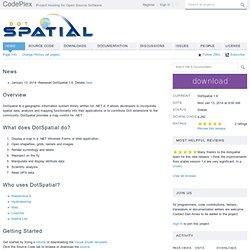 Laboratory Informatics Guide 2008
ACD/Labs has published an application that illustrates how an improved approach can significantly benefit the users of ELNs who confirm structures using PDFs on a regular basis. Currently, most workflows archive analytical data in PDF form, an apt format for e-lab notebook attachments. Unfortunately, PDF files are not designed for easy reprocessing and reinterpretation; in fact, most PDF reports limit themselves to showing only raw spectra, and don't show any correlation with suggested structure. The existence of NMR software that automatically references, labels, and analyses multiplets means that users can produce a PDF file that contains more information in support of the structure. www.acdlabs.com The Kalabie Electronic Lab Notebook (ELN) from Agilent is intuitive and easy-to-use.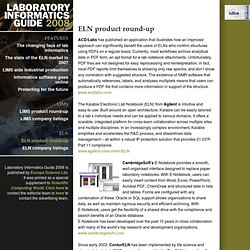 How Does Calepin Work? By combining a service you already have with a syntax that's easy to learn, Calepin is the easiest way to self-publish online. Quick Start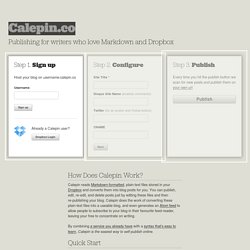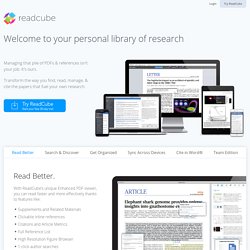 "I love that everything is inline! The enhanced PDF allows me to use the more easily-readable and more organized PDF format while retaining (and even improving) the functionality of an online-accessed, full-text article with hyperlinked references and supplements" Jordan Reuter Microbiology and Cell Science student University of Florida "I think that ReadCube is the best product on the market for managing a collection of papers.