Portfolio 2
Calligraphy
// sergio clara: diretor de arte | Brasil. Pale Horse Design. Archive : Julien De Repentigny. Fabio Costa. A selection of graphic projects. Trevor Jackson. Guinness Dot. Klipp og Lim. Julien Vallée | motion graphic & design | Montréal. Build - The Crow. Olly Moss.
Alberto Cerriteño | Design Work. Joseph Kosinski. Saulo Rodrigues - Art Director. Contact : Stina Persson. Karim Charlebois-Zariffa / Graphic & Motion design. A commercial for online printing service...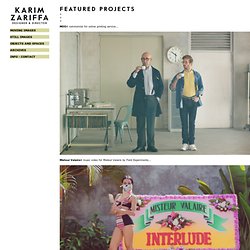 Misteur Valaire A music video for Misteur Valaire by Field Experiments... Fonds FTQ 2014. Formconspiracy V3. SOY MILK | PKG DESIGN ARCHIVES | The Design Associates. Element 5.0 Graphic Design. Newcastle upon Tyne. Delrancho. Un.titled / Design & Art Direction. .GIANLUCA FALLONE.
---