Vectors
I wish you all a very Happy New Year. Hope you have a very fruitful one. We are starting off the new year with some good old logo inspiration. My latest logo project has been food related and I thought that I'll share some classy gourmet logos that I came across in the course of my research.
70 Gourmet Logos Of Food Restaurants Bars And Grills
35 Latest High-Quality Free Fonts for Professional Designers | Fonts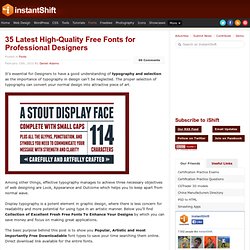 It's essential for Designers to have a good understanding of typography and selection as the importance of typography in design can't be neglected. The proper selection of typography can convert your normal design into attractive piece of art. Among other things, effective typography manages to achieve three necessary objectives of web designing are Look, Appearance and Outcome which helps you to keep apart from normal wave.