Semantic Web & RDF
sioc-project.org | Semantically-Interlinked Online Communities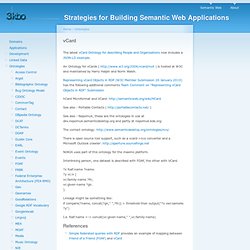 The latest vCard Ontology for describing People and Organisations now includes a JSON-LD example. An Ontology for vCards ( http://www.w3.org/2006/vcard/ns# ) is hosted at W3C and maintained by Harry Halpin and Norm Walsh. Representing vCard Objects in RDF (W3C Member Submission 20 January 2010) has the following additional comments Team Comment on "Representing vCard Objects in RDF" Submission hCard Microformat and VCard: http://semanticweb.org/wiki/HCard See also - Portable Contacts ( http://portablecontacts.net/ ) See also - Nepomuk, these are the ontologies in use at dev.nepomuk.semanticdesktop.org and partly at nepomuk.kde.org:
vCard | Strategies for Building Semantic Web Applications
Index of /hhalpin/homepage
Next: Introducing Graph Data What is Linked Data and the Semantic Web and what is all the hype about?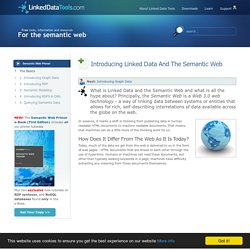 This page lists the latest versions of all W3C Recommendatations and Notes that have been published by the various Semantic Web Activity Groups or relevant Incubator Groups. For a more complete lists of specifications, including older, obsolete versions and drafts, see the general page on W3C documents. See also the list of translations for RDF, GRDDL, RDFa, RDB2RDF, SPARQL, OWL, POWDER, PROV, and RIF You may want to look at the collection of SW Case Studies and Use Cases to see how organizations are using these technologies today. Resource Description Framework (RDF)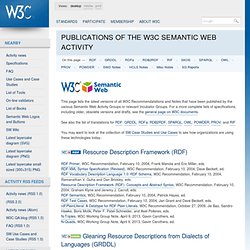 Publications of the W3C Semantic Web Activity
Resource Description Framework (RDF)
RDF Vocabulary Description Language 1.0: RDF Schema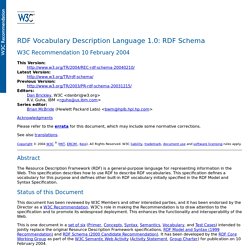 Abstract
This page lists the latest versions of all W3C Recommendatations and Notes that have been published by the various Semantic Web Activity Groups or relevant Incubator Groups. For a more complete lists of specifications, including older, obsolete versions and drafts, see the general page on W3C documents. See also the list of translations for RDF, GRDDL, RDFa, RDB2RDF, SPARQL, OWL, POWDER, PROV, and RIF You may want to look at the collection of SW Case Studies and Use Cases to see how organizations are using these technologies today. Resource Description Framework (RDF)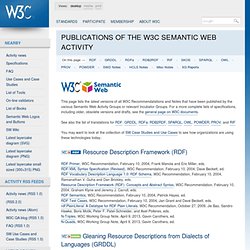 Publications of the W3C Semantic Web Activity
Status of this Document
A Direct Mapping of Relational Data to RDF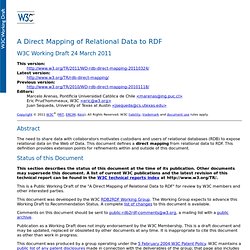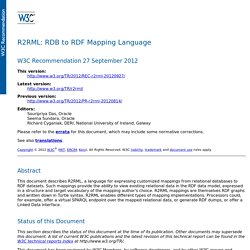 R2RML: RDB to RDF Mapping Language
This document describes R2RML, a language for expressing customized mappings from relational databases to RDF datasets. Such mappings provide the ability to view existing relational data in the RDF data model, expressed in a structure and target vocabulary of the mapping author's choice. R2RML mappings are themselves RDF graphs and written down in Turtle syntax. R2RML enables different types of mapping implementations. Processors could, for example, offer a virtual SPARQL endpoint over the mapped relational data, or generate RDF dumps, or offer a Linked Data interface. 1 Introduction