Tribunal-Specific info
ICC Coalition
Leave None to Tell the Story: Genocide in Rwanda (Human Rights Watch Report, March 1999)
UN ICTR Report
ICTR Status of Detainees
Orentlicher Bosnia Article
Kosovo - Forensics of War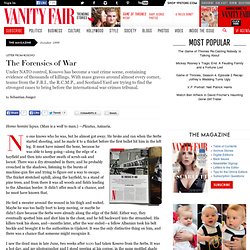 The first big massacre occurred in March 1998, when Serb forces surrounded the village of Prekaz and wiped out 58 civilians, many of them women and children.
SCSL Wiki Summary
The Special Court for Sierra Leone, otherwise called the "Special Court"[1] or the SCSL, is a judicial body set up by the government of Sierra Leone and the United Nations[2] to "prosecute persons who bear the greatest responsibility for serious violations of international humanitarian law and Sierra Leonean law" committed in Sierra Leone after 30 November 1996 and during the Sierra Leone Civil War.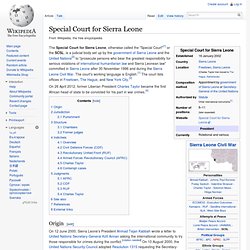 Sierra Leone Report.pdf
2006 Expert Report on SCSL
Annex to 2006 SCSL Report
UN 2000 Report on SCSL
Letter dated 24 March 2005 from the Secretary-General to the President of the Security Council I have the honour to transmit herewith the report of the Mission of Inquiry into the Circumstances, Causes and Consequences of the 14 February Beirut Bombing, which was prepared pursuant to the statement by the President of the Security Council (S/PRST/2005/4) of 15 February 2005. This independently conducted fact-finding report presented to the Council today raises some very serious and troubling allegations. The Mission concludes that an independent international investigation is needed.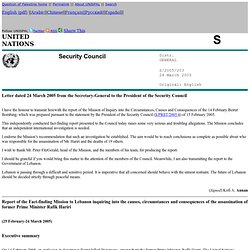 UN Report on Hariri Assassination
The International Criminal Court puts the Legal Tools at the disposal of any person who may choose to access this web site ("User") under the following terms and conditions of use ("Terms and Conditions").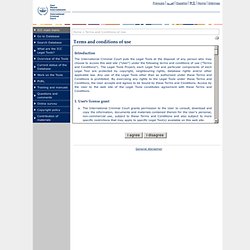 ICC - Legal Tools: Go to Database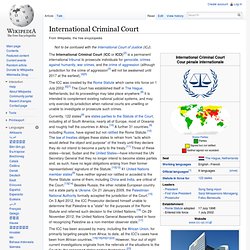 ICC Wiki Summary
The International Criminal Court (commonly referred to as the ICC or ICCt)[2] is a permanent tribunal to prosecute individuals for genocide, crimes against humanity, war crimes, and the crime of aggression (although jurisdiction for the crime of aggression[3] will not be awakened until 2017 at the earliest).[4][5] The ICC was created by the Rome Statute which came into force on 1 July 2002.[6][7] The Court has established itself in The Hague, Netherlands, but its proceedings may take place anywhere.[8] It is intended to complement existing national judicial systems, and may only exercise its jurisdiction when national courts are unwilling or unable to investigate or prosecute such crimes.