Amigurumi
Zapatillas Converse al crochet. Escarpines tipo "Converse All Star" Comenzar por la suela con el hilo blanco 1° vuelta: hacer 14 cadenas y una más para dar la vuelta.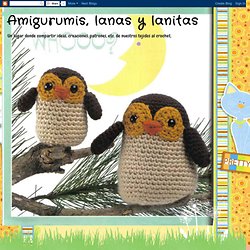 Free cartoons-games amigurumi patterns - Page 3. AMIGURUMI OBSESSION. Bean Bags. Before I started writing patterns down I made this fun pinto "bean bag" one day while I was canning beans.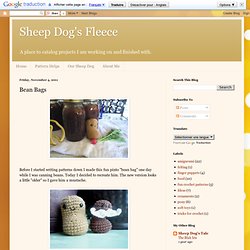 Today I decided to recreate him. The new version looks a little "older" so I gave him a mustache. Bean Bag (use an f/3.75 hook throughout) Rnd1: sc6 in a circle Rnd2: 2sc in each sc around (12) Rnd3: *sc1, 2sc in next st* repeat around (18) Rnd4: *sc2, 2sc in next st* repeat around (24) Rnd5-7: sc around (24) Rnd8: decrease 4 times, sc16 (20) Rnd9: decrease 4 times, sc10 decrease 1 time (15) Rnd10: decrease 3 times, sc9 (12) Rnd11: sc around (12) Put in eyes and face. If you want to make a mustache use the pattern from my mustache bunny. Charmander Plushie. Ok, well.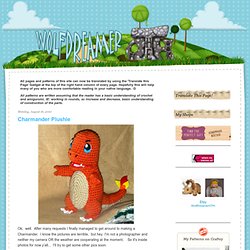 After many requests I finally managed to get around to making a Charmander. I know the pictures are terrible, but hey I'm not a photographer and neither my camera OR the weather are cooperating at the moment. So it's inside photos for now y'all... I'll try to get some other pics soon. This pattern has two different 'versions'. 1500 Free Amigurumi Patterns.
Bellossom « AH! Creations. While looking for a new pokemon to crochet since I'm aggravated with another one I'm creating, I decided on Bellossom.
She is fun and colorful, just what I needed after being bogged down with school work. The hardest part about creating her is putting the leaves on correctly to let them form the correct shape, but other than that she is a pretty simple Pokemon to create. Materials Red, yellow, green yarn different shades of green) Pink, black, white, and blue felt for the face. Free Patterns @ full of fluff. Spring is a beautiful but also very messy time of year.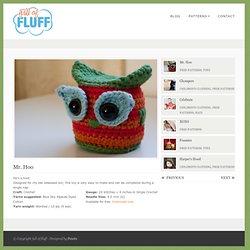 Depending on the part of the country in which you live, you normally deal with thawing snow or lots of rainy days. Either way, you get mud. In an effort to keep toddlers in a somewhat presentable state, these knit pants fold up, hopefully out of the reach of the majority of splashing. Ami List. PATRONES AMIGURUMIS GRATIS. Aipom Materiales: WW hilo en medio de lavanda (lila) y Tan.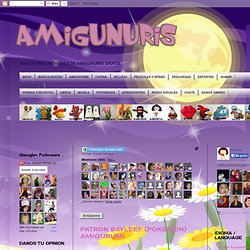 Tutorial de Amigurumi 1 (como tejer con gancho) | Gancho y Agujas. Este tutorial es para quienes tejen con agujas y desean aprender a hacer amigurumis (muñecos a gancho).
En esta primera parte cubriré las técnicas básicas de gancho necesarias. Como sé que uno aprende mejor viendo, usaré videos para hacerlo (puede que tarden algo en bajar). Milalibelula. Espacio Crochet: Tutorial patrones amigurumis. ¡Hola!
He redactado este pequeño tutorial para que podáis aprender los puntos básicos de ganchillo que os servirán para realizar vuestro primer amigurumi. La cadeneta es el punto básico del crochet y se hace de la siguiente manera: El punto enano o punto falso lo utilizamos para acabar las vueltas del amigurumi. Over 300 Free Crochet Toy Patterns at AllCrafts! The best FREE patterns so WONDERFUL people like YOU can create and SHARE!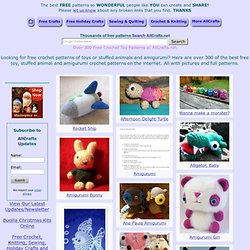 Please let us know about any broken links that you find. THANKS Thousands of free patterns Search AllCrafts.net. Tutorial. Hi there!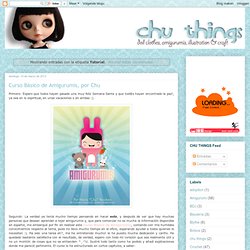 I feel that I have this place kind of abandoned. Sorry about it. I am trying to catch up again with amigurumis and dolly stuff again :). I am hanging here again my Amigurumi basic course (Is available at the moment just in spanish... sorry -___-). CursoAmigurumi. En el Post del Curso de Amigurumi II me dejaron un comentario Anónimo con esto:Anónimo dijo...Hola!
Tengo una duda sobre un patrón profe, jejeje. Cómo se interpretan las vueltas como la 5,7,etc. Es que por más que me lo miro no lo entiendo! Muchas gracias!! Free Amigurumi Patterns.
---