Sketchup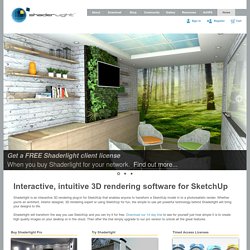 Congratulations to our render contest winner! See the rest of the top 12 images on our blog Shaderlight is an interactive 3D rendering plug-in for SketchUp that enables anyone to transform a SketchUp model in to a photorealistic render.
Maxwell Render :: The next generation in rendering technology capable of simulating light exactly as it behaves in the real world.
SketchUp Help
October is the time of year that all of my creative energy is focused into a single, solitary purpose: the design and making of an unreasonably complicated Halloween costume for my son. This year, I was determined to reflect his outsized interest in aviation by building him his very own airplane. Something with an open cockpit.