Sketchup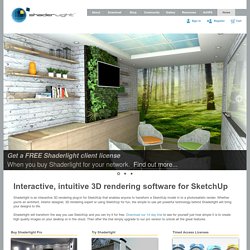 Shaderlight is an interactive 3D rendering plug-in for SketchUp that enables anyone to transform a SketchUp model in to a photorealistic render. Whether you're an architect, interior designer, 3D rendering expert or using SketchUp for fun, the simple to use yet powerful technology behind Shaderlight will bring your designs to life. Shaderlight will transform the way you use SketchUp and you can try it for free.
Maxwell Render :: The next generation in rendering technology capable of simulating light exactly as it behaves in the real world.
SketchUp Help
If you poke around SketchUp.com today, you'll notice a few things are different. For one, a new version of SketchUp is available for download in ten languages. You'll also find that we've completely rebuilt 3D Warehouse, our online repository for the millions of models shared by SketchUp users worldwide.