IPAD SITES/APS
2012 Apps for Teachers. People often ask what apps I would recommend for Teachers?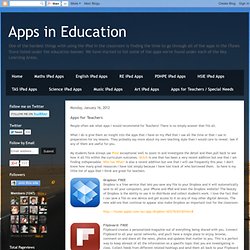 There is no simply answer that fits all. What I do is give them an insight into the apps that I have on my iPad that I use all the time or that I use in preparation for my lessons. They probably say more about my own teaching style than I would care to reveal. 50 Must-Download Apps For Lifelong Learners. Added by Jeff Dunn on 2012-08-13 Long after degrees have been conferred and careers have been launched, many folks just can't seem to quit school.

For them, life provides an overstuffed cornucopia of educational opportunities that don't necessarily require hefty loans and navigating different professorial strategies. Those with a lust for learning who happen to also enjoy testing the limits of what the iPad offers definitely don't have to worry about finding resources to pique their fancy. Helping Students Make Better Movies on iPad (or any device) I'm gearing up for a film festival at the end of the month that celebrates the incredible talents and vision of the students in my community.
The films are created by students in what is often an in-depth process. Starting with nothing more than an idea, students write story boards, scripts, choose film techniques, act, record, edit, process and polish until they have a video that depicts nothing less than the vision they started with. I've had many teachers ask how to help students make great films, so below is a series of activities that may help you during the process. iPad - Why? How? Functions eBook Reader Could be amazing if publishing houses get their acts together.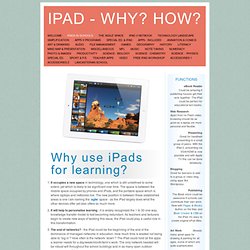 The iPad could be perfect for educational text books. Web Research Apart from no Flash video, browsing should be as good as a laptop yet more personal and flexible. Beginner's guide. iPad As.... iPad Tips: Getting Started with the iPad. Have you just got a shiny new iPad as a holiday gift, or maybe just bought one for yourself?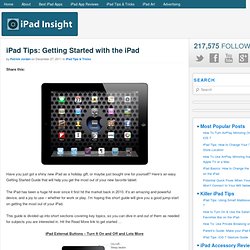 Here's an easy Getting Started Guide that will help you get the most out of your new favorite tablet: The iPad has been a huge hit ever since it first hit the market back in 2010. Teachwithyouripad.wikispaces. How do I get Apps to this device?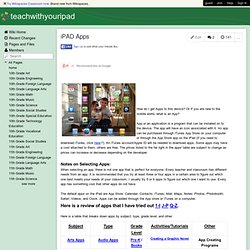 Or If you are new to the mobile world, what is an App? App or an application is a program that can be installed on to the device. The app will have an icon associated with it. iPad & Android. Teaching Large Classes with an iPad » To this day I remain a big fan of the overhead projector.
I truly believe it was more effective a tool for teaching than the projected Powerpoint slides will ever be. I stood facing the students, watching their expressions, which I could see since the lights were sufficiently bright. I could draw on the screen and change directions as questions arose. In fact I will argue that the 'golden age of college teaching' if there was one was stimulated by the addition of the roller to the overhead projector. It allowed the combining of student response, just-in-time teaching, constructivist development and several other educational buzz terms in one simple device. Preparing Your School for an iPad Implementation. Planning is imperative for any technology initiative - iPad or otherwise.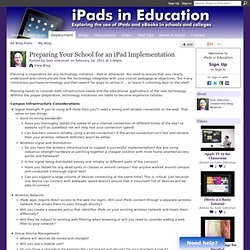 You need to ensure that you clearly understand and communicate how the technology integrates with your overall pedagogical objectives. Too many institutions purchase technology and then search for ways to utilize it ... or leave it collecting dust on the shelf. Planning needs to consider both infrastructure needs and the educational applications of the new technology. Without the proper preparation, technology initiatives are liable to become expensive failures. Campus Infrastructure Considerations. First iPad Encounters. The iPads are finally set up and ready to go into the classrooms!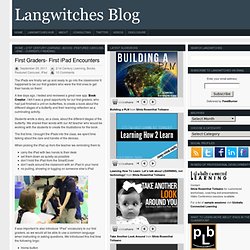 It happened to be our first graders who were the first ones to get their hands on them! A few days ago, I tested and reviewed a great new app: Book Creator. I felt it was a great opportunity for our first graders, who had just finished a unit on butterflies, to create a book about the different stages of a butterfly and their learning reflection as a culminating activity. Students wrote a story, as a class, about the different stages of the butterfly. We shared their words with our Art teacher who would be working with the students to create the illustrations for the book. - iPads-for-Learning---21-Steps-to-1-to-1-Success.pdf. How to Design a Beautiful iPad Lesson: This is a beautiful lesson designed and presented by Rob Miller on Scrib.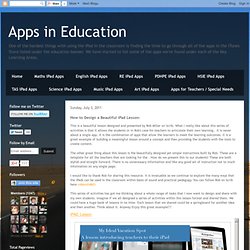 What I really like about this series of activities is that it allows the students or in Rob's case his teachers to articulate their own learning. It is never about a single app. 20 Amazing iPad Apps for Educators. After the iPod revolutionized how society listened to music and the iPhone pushed the boundaries of smartphone technology, the iPad stands poised to alter the face of mobile computing. Many have praised its potential to make personal and professional lives that much easier – and that certainly includes the education industry! Teachers with a love of technology and a passion for nurturing the minds of their students can easily discover creative ways to incorporate iPad apps for teachers into their daily routine, and some of these great educational and organizational applications are bound to help them get started.
Teacher's Assistant Pro. Reading Apps. Five Fun Free iPad Apps for Elementary School Teachers And Students. These free applications provide a wide variety of engaging learning opportunities for young students (and you can't beat the price). The Apple iPad is becoming more popular in our schools every day (just check out this EmergingEdTech video to appreciate how quickly the iPad is gaining hold in our schools).
It's really a great tool for the younger student, with its ease of use and touch screen functionality. In addition to the thousands of education related apps out there for a price, there are a lot of applications available for free. I spent a few hours this weekend downloading and trying out apps and ultimately selected these five to share here. iPad Apps that work with Smartboards. The iPad looks amazing when projected onto a large screen. The students in a 1 to 1 iPad classroom gets to see the apps at work. Have a look at the list below to see if any of these might be useful in your classroom.
If you have others that should be added to this list please leave a comment with the name of the app and we will add it to the list. Doceri: FREE Turn your iPad and classroom computer into an Interactive Whiteboard with Doceri. Imagine the freedom to move around the room, interact with your students and never turn your back to the class. 10 Apps for Learners Who Struggle with Reading and/or Writing. Despite the growing use of multimedia in classrooms, schools remain primarily text oriented. This is a major problem for significant numbers of learners who struggle with text. No matter how capable they may be in other respects, these students are not "academically" oriented in the ways that tend to matter most in the classroom.
For many, it's a processing issue. Others have difficulty with the physical mechanics of writing. Free Apps. Apps. The Complete List of iPad Tips, Tricks, and Tutorials. Apps in Education. "The Good, the Bad, and the Ugly": A Fantastic AAC App Spreadsheet. Apps for education. Handout_quickguidetowebtools. Dark Side of the iPad ~ Collecting student projects is difficult! Look! I'm Learning Documentary Film by Bruce Umpstead. Rover Flash Browser for iPad. Top 100. 10 Search Engines to Explore the Invisible Web. iPads in the Classroom. Sample Lessons - iPad in Education. Making assessment meaningful. High School iPad Apps. 103 Interesting Ways to use an iPad in the Classroom. 40+ Super Secret iPad Features and Shortcuts. iPad Tips: Getting Started with the iPad. iPad Tips And Tricks - 100 Essential.
50sites ver3. iPads in Schools. 3 Ways to Manage Student iPads in the Classroom. 20 Essential iPad Websites. 100 Essential iPad Tips and Tricks. 100+ iPad Apps Perfect For High School. 50 really useful iPad tips and tricks. 68 Interesting Ways to use an iPad in the Classroom. The Complete List of iPad Tips, Tricks, and Tutorials. The 50 Best Websites of 2011. Top 13 web 2.0 tools for teachers. Ipad implementation ideas. iPad for Education. iPads in education. iPads in Art Education - Why iPads? ArtThink | Tools and Games. iPad in education.
iPad. iPad Art. iPad for Teaching & Learning. iPad Classroom. iPad implementation. 1:1.
The 100 Best iPad Apps - Tweetbot. 32 iPad Tips and Tricks. iPADS. I Pad. iPad/iPod. iPad. Ipad how to. Parent iPad Info. Ipad Apps. Top 200 best iPad apps 2012. The Top Educational iPad Apps Every Teacher and Student should Know about ( 100+) Ipad Stuff. IPads.
---