Theatre
Theaterpraktijk
festivalimpulse: Festival
Pieter Van den Bosch
Tadeusz Kantor Tadeusz Kantor (6 April 1915 – 8 December 1990) was a Polish painter , assemblage artist, set designer and theatre director . Kantor is renowned for his revolutionary theatrical performances in Poland and abroad.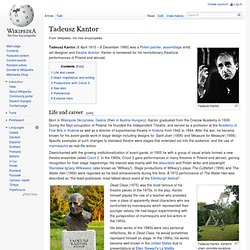 Tadeusz Kantor
Ecole International de Theatre Jacques Lecoq
Het Firmament
Theater Instituut Nederland / Home - eZ publish
Vsevolod Meyerhold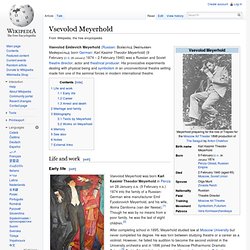 Vsevolod Emilevich Meyerhold ( Russian : Все́волод Эми́льевич Мейерхо́льд ; born German : Karl Kasimir Theodor Meyerhold ) (9 February [ O.S. 28 January] 1874 – 2 February 1940) was a Russian and Soviet theatre director , actor and theatrical producer . His provocative experiments dealing with physical being and symbolism in an unconventional theatre setting made him one of the seminal forces in modern international theatre. [ edit ] Life and work
Kijk op spel in Dramaland
Forced Entertainment | Home | forced entertainment
la fura dels baus
Jan Lauwers - theater - theatre
Toneelacademie Maastricht
de Filmfabriek - index
Het Wilde Oog Theater Atelier en Workshops
AINSI - Façade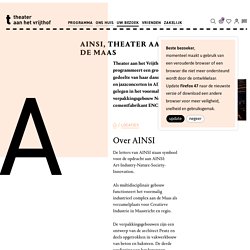 The Euregional dance platform is initiated by VIA2018, executed by Theater aan het Vrijthof and aims at developing the Euregional dance climate.
Hotel Dramatik