Sound
Sound Search Engine | SoundJax.com. 22 essential arranging tips - Tutorials | musicradar.com. Arranging can broadly be defined as the process of transforming a collection of musical ideas into a complete track.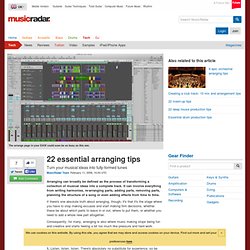 It can involve everything from writing harmonies, re-arranging parts, adding parts, removing parts, planning the structure of a song or even adding effects from time to time. If there's one absolute truth about arranging, though, it's that it's the stage where you have to stop making excuses and start making firm decisions, whether these be about which parts to leave in or out, where to put them, or whether you need to add a whole new part altogether. Kay Sound Collection®, une sonothèque de bruitages et ambiances, Sound samples.
From OLPC Music : Sound samples +/- v.2 of the sound samples torrent is now available via Mininova.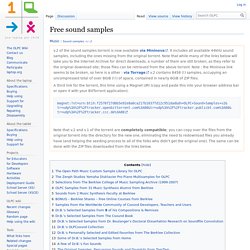 It includes all available 44kHz sound samples, including the ones missing from the original torrent. Note that while many of the links below will take you to the Internet Archive for direct downloads, a number of them are still broken, as they refer to the original download site; those files can be retrieved from the above torrent. Acoustic Space Re-search Lab. Machinefabriek. Free Royalty Free Music, Free Sound Effects. Royalty Free Music & Stock Audio - AudioJungle. Audio. Photo via yopob.com, All Rights Reserved Yoko Ono wants you to remix her track "The Sun Is Down!"
Whose stems are released under a CC Attribution-NonCommercial license . You can download the sample pack which includes the track's vocal effects, loops of bass, drums, sound effects, and Tenorion files. But Yoko's also running a contest to find the 10 best remixes. Find Sounds. Royalty Free Sound Effects (FX) Library for Download. Sound Effects Library.
CcMixter. Audio Search. The following audio search tools will enable you to find specific audio files and audio content (though some will overlap and therefore be featured in both the audio search engines and video search engines sections).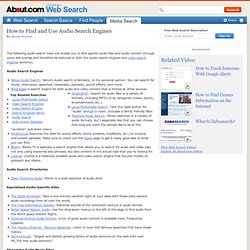 Audio Search Engines Yahoo Audio Search: Yahoo's Audio search is fantastic, in my personal opinion. You can search for music, interviews, speeches, newscasts, podcasts, sound effects, and more. BlogDigger:a search engine for both audio and video content that is hosted at other sources. Muhka Audio. Quiet american. Freesound :: home page.
---