libraries
Get flash to fully experience Pearltrees
How it works Lemontree automatically gathers information about your activities within the library when you link it to your library card. So when you visit library, when you bring books back or even when you log in to an e-resource, your actions — provided you've registered with us —will register on Lemontree and earn you points! During the week Lemontree will show your progress visually. The more you use the library, the hotter your library card gets! Grow your own Lemontree
RLUK has published a major report by Mary Auckland on the changing needs of researchers and the effect on the subject/liaison role within libraries. As research activities evolve, research support must evolve with them. RLUK has been keen to determine what the new requirements of researchers are, and how best these needs can be met by the library. We want to place the needs of researchers in the context of the libraries current offering, and look at how we must change to fulfil the new demands placed upon us.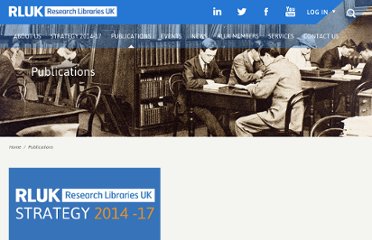 Our Position The issue of journal prices has been a matter of concern for university libraries for the past couple of decades. However, the combination of falls in the value of sterling, the international financial collapse and uncertainty in the funding of the UK Higher Education sector has hit British libraries hard.
Martin Philip (Subject Librarian for Accountancy, Law and Informatics) reflects on a focus group held with a group of our 'non users' from the School of Computing and Engineering. I recently conducted a focus group with five Computing students, a department that has been identified as low users of the library. The focus group was conducted using the 'flipchart paper and post-it notes' format, as designed by Ellen. There were five parts to the session, beginning with an activity that asked students to explain where they got information that was used in their last assignment.