Bibliometrics
Bibliometricians meeting - Webcast@OU
10.30 - Introduction & welcome. Nicky Whitsed, The Open University. 10.40 - The evolving use of data in university research assessment and management. Jonathan Adams, Thomson Reuters. 11.25 - Snowball Metrics. Lisa Colledge, Snowball Metrics Project Director, Global Academic Relations, Elsevier.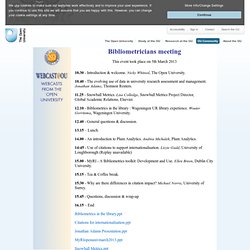 Welcome to Ranking Web of Universities | Ranking Web of Universities
Home - Bibliometrics - LibGuides at Queen's University Belfast
Most researchers are familiar with well-established journals and conferences in their field.
Google Scholar Metrics for Publications - Google Scholar Blog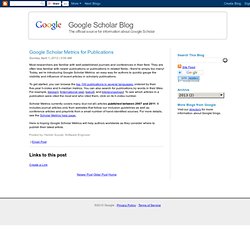 Testimonials "Your tutorial and worksheets [...] are very thorough and demonstrate a comprehensive knowledge and understanding of the issues and challenges associated with measuring research impact."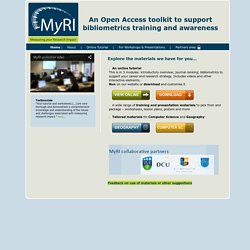 MyRI Homepage