Partners
Jeux ecolo. Terre. Home. LCL Banque Privée : accueil banque privée. Groupe SOS. Société Française de Pédiatrie: Accueil. Grameen Kalyan. YouChange Entrepreneur Foundation. YouChange's Views:what is "neo-philanthropy"?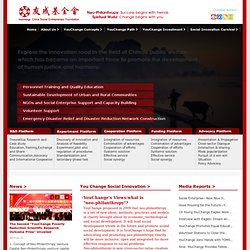 YouChange proposed in 2009 that neo-philanthropy is a set of new ideas, methods, practices and models in charity brought about by economic, technological and social development. It will lead social development trends in the future and promote sound social development. It is YouChange's hope that by advocating and promoting neo-philanthropy charity will be more inclusive, open and integrated for more effective response to social problems. Grameen Credit Agricole Foundation | "Au service des prêteurs d'espoir" Untitled. Association Coup de pouce humanitaire. Icthys Development. One Laptop per Child. Home. Drishtee works with communities in rural India Current Situation / Challenge : These communities are today in a difficult situation as their sustainability is being challenged by growth of manufacturing and large scale industrialization.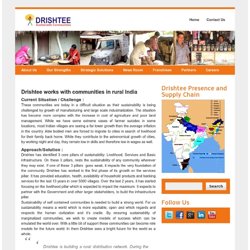 The situation has become more complex with the increase in cost of agriculture and poor land management. While we have some extreme cases of farmer suicides in some locations, most Indian villages are seeing a far lower growth than the average inflation in the country. Able bodied men are forced to migrate to cities in search of livelihood for their family back home. Secours Catholique / Caritas France - Association humanitaire caritative - ONG. Le site du Gret. Une association de solidarité et de coopération internationale. Home - 壹基金官方网站 One Foundation. One Foundation. We welcome you to join us and make a donation to the Jet Li One Foundation Project.
All donations received will be deposited directly into the account of the Red Cross Society of China, earmarked for use by the Jet Li One Foundation Project. The Red Cross will disburse funds and the Jet Li One Foundation Project will oversee all expenditures to ensure accountability and transparency in the use of donated funds for their intended purposes. We invite the media and general public to help supervise this process. While we are always exploring new methods for collecting donations, the best and most cost-effective method for foreign currency donations (including USD) is currently an online donation through the secure, verified, and simple-to-use Paypal system.
Croissant Rouge Algérien. WFP | United Nations World Food Programme - Fighting Hunger Worldwide. Accueil. TechnoServe - Business Solutions to Poverty. Ashoka France Belgique Suisse. Front Page | Ashoka.org. Cuma.fr le portail du réseau CUMA.
Enda graf sahel. IRD. Investisseur et Partenaire pour le développement :: Investissements en Microfinance et dans les Entreprises de taille moyenne en Afrique. 1001 fontaines pour demain - Accueil. Welcome to Intercoop Ltd. Grameen Creative Lab – passion for social business. GAIN - Global Alliance for Improved Nutrition. Croix-Rouge française. Adie.org | Nous donnons les moyens d'entreprendre à ceux qui n'ont pas les moyens.
CARE :: Defending Dignity, Fighting Poverty.
---