CRM
CRM is known as one of the most intricate software projects existing. However, in order to offer a substitute to on-premise CRM dispositions, a complete Software-as-a-Service (SaaS) industry has materialized. This will help simplify the intricacies of CRM. An open source CRM is also available as a second choice for CIOs other than the typical on-premise and SaaS sourcing choices.
5 Excellent Open Source CRM Systems
Open Source CRM Software Reviews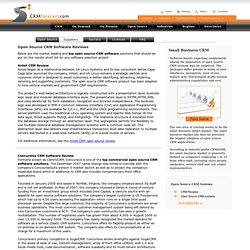 Below are the market leading and top open source CRM software solutions that should be put on the vendor short list for any software selection project. Anteil CRM Review Anteil began as a relationship between VA Linux Systems and its key consultant James Capp. Capp later launched the company, Anteil, and VA Linux remains a strategic partner and customer.