Nlp-video
John Overdurf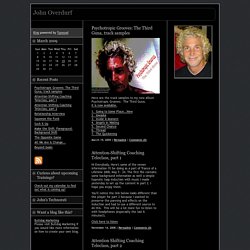 Here is an interview that I did with my friend Mark about Relationships. This version contains about 45 minutes that combines Beyond Goals, Coaching, Quantum Physics Metaphors and life experience applied to relationships. It was geared toward a general audience interested in Personal development, so it was fun to hit things from different angles. Also included in the interview is hypnotic music, "From Where You Are Becoming," as well as a hypnotic music loop which echos a theme you may know for your unconscious listening pleasure. Therefore, if possible, I suggest - and yes, that's only a, suggestion - that you listen to the interview and the other two musical entries below with headphones for the best experience.
Posted on 13 September 2009. Tags: eye drills, mind hack, mindhack, mr twenty twenty, NLP, VAK Most NLP trainings and courses don't give VAK the attention that it deserves.
NLP and VAK - The most interesting video on VAK that I've ever seen! « Mind Hack Videos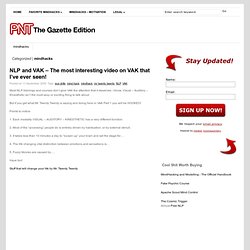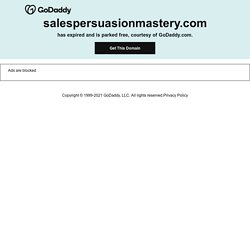 More free Webinars will be emailed to the address you have supplied. If you haven't signed up for all the free videos yet then be sure to do so and complete the form here… This webinar on building your Sales Character is taken from a recent Sales Persuasion Masterclass run by Bryan McCormack and Rintu Basu. In this second segment Bryan McCormack shows you how to build a convincing and effective selling character of your own.
Free Webinar 2: Building Your Sales Character | salespersuasionmastery.com
Free Webinar: How To Create A Sales Character Using Acting | salespersuasionmastery.com
This webinar on creating and adopting a Sales Persona is taken from a recent Sales Persuasion Masterclass run by Bryan McCormack and Rintu Basu. In this first segment Bryan McCormack shows you how, by creating a sales character, you can protect yourself from the impact of rejection and build rapport. Complete the form above to gain instant access to the next webinar and learn, step-by-step, how to create a convincing and effective selling character of your own…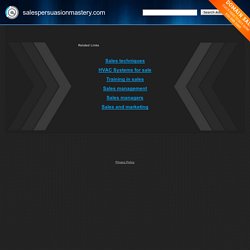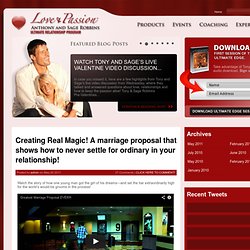 Tony Robbins Love and Passion Blog
Contrary to popular belief, a recent scientific study suggests that men suffer more from romantic breakups than women do. "…research showed that though men act tougher and are less likely to outwardly express their distress, rocky relationships tend to have a stronger direct impact on their mental health than on women's state of mind." Though it may sound wrong at first, if we look at this through the perspective of masculine/feminine energies it seems very obvious. Men are driven by masculine energy and the primary driving force in male energy is direction in life – a mission. In a relationship most men tend to focus on their partner as their mission, so loss of a relationship equals a failure of that mission. Therefore, when a man goes through a breakup it becomes much more than just his heart that's at stake.
NLP Weekly Magazine » Blog Archive » Why Do You Do What You Do & What You Can Do About It
Hypnotic Persuasive Techniques Pattern 101 | Free Educational & How-To Videos - Watch Educational & How-To Videos Online | Veoh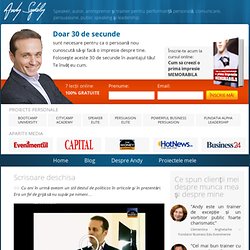 Business Persuasion
Sesizez o modă în ultimii ani: Din ce în ce mai mulţi tineri, dar şi unii adulți, îşi reconfigurează sistemul de valori în jurul ideii de noutate. Doamne ferește să intre în contact cu ceva ce au mai auzit ieri, că imediat au impresia că acel lucru e fâsâit… nerelevant… lipsit de substanță, "nashpa" sau "boring". Am scris în trecut destul de mult la adresa profesorilor de școală plictisitori și a sistemului educațional osificat.
Audio Presentations . . . These audios, and all multimedia files on this website require Flash Player. Welcome Message Personal Message Hypnosis Welcome Message Hypnosis Modality New "Hypnotic Edge" Video! George Bien talks about The Power of Hypnosis!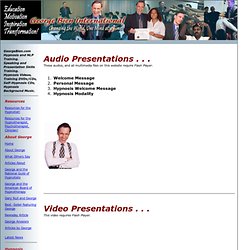 Audo-Video Presentations
The Power of Tasking John Grinder in this live extract from a NLP Practitioner course gives an example of the power of tasking from a previous case study. This metaphor embodies John's view that NLP is done best out of the office and actually in the natural contexts people explore in their daily lives. Enjoy!! To learn more about coaching visit:
NLP Videos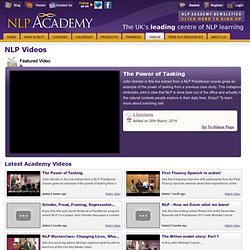 NLP
nlpworld Videos - Video Spider.tv
NLP Video