Business-education
Business Model Workout. Negotiating Power. ActionCOACH Franchise - Home. Leadership vs. Management. The emphasis, these days, on Leadership is so pregnant that many promoters of the concept (mainly consultants ready to offer advice) forget about the importance of Management skills as the foundation of leadership.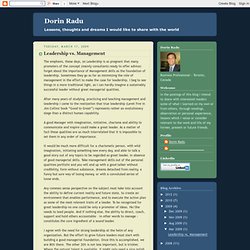 Sometimes they go as far as minimizing the role of management in the effort to make the case for leadership. I beg to see things in a more traditional light, as I can hardly imagine a sustainably successful leader without great managerial qualities. After many years of studying, practicing and teaching management and leadership I came to the realization that true leadership (Level five in Jim Collins' book "Good to Great") represents rather an evolutionary stage than a distinct human capability. The Customer Collective | The WOW Approach to Price Negotiations. Business-Edu.ro, portal de Educatie de Afaceri! | Business-Edu.ro.
2011: A Year of Opportunity : The World. Pricing-toronto. Business-tips. Psychology. Management-articles. Conversation. Goals-GROW. Covey. Business-communication. Seminars-dvd. People-buy. The Family Business Blog. Fran Tarkenton's Blog. Small Giants - Bo Burlingham - Official Book Website. Decker Communications:Welcome. Mike Bosworth Enterprises-Home.
---