Soda
Beaver Soda | 100% All Natural
GuS Grown-up Soda
::: Nutrisoda® Functional Beverages :::
promoting
DRY Soda
DRY Soda is a less sweet, all natural soda made with just four ingredients, including a little bit of pure cane sugar. Each of DRY's eleven unique flavors is perfect to sip on its own, pair with a meal or mix into cocktails. Find DRY at these upcoming events: Arcade Lights - Seattle, WA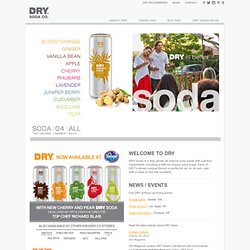 Make The Switch!
Brain Toniq - The world's first organic, botanical-based, non ...
Sunny Boy Sodas: All Natural Sodas
Orange Sunny Boy Orange Soda is made without preservatives and uses only the best ingredients. It is also possibly the finest Orange Soda you will taste!
Hansen's Official Web Site