Humor
Y U NO Click!
Image Hosting & Short Links @ Qikr
Rate My Random Funnies [70 Pics]
Only In America
Funny Shit (home) → peoplesaid → Don't Argue With The Gay Flight Attendant My flight was being served by an obviously gay flight attendant, who seemed to put everyone in a good mood as he served us food and drinks. As the plane prepared to descend, he came swishing down the aisle and told us "Captain Marvey has asked me to announce that he'll be landing the big scary plane shortly, so lovely people, if you could just put your trays up, that would be super." On his trip back up the aisle, he noticed an extremely well-dressed and exotic young woman hadn't moved a muscle. "Perhaps you didn't hear me over those big brute engines but I asked you to raise your trazy-poo, so the main man can pitty-pat us on the ground."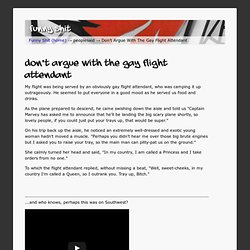 Don't Argue With The Gay Flight Attendant
Numanuma
The Game of SMOSH We've turned all of SMOSH into a game. The Game of SMOSH. The more you play, the more you level up. The more you level up, the more cool rewards you win. …All For Free! It's completely free and easy to play.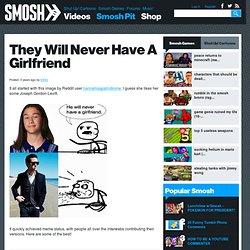 20 funniest names EVER theCHIVE