WordPress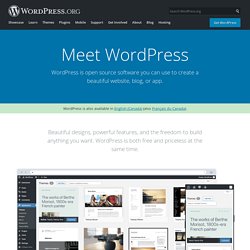 WordPress is web software you can use to create a beautiful website or blog. We like to say that WordPress is both free and priceless at the same time. The core software is built by hundreds of community volunteers, and when you're ready for more there are thousands of plugins and themes available to transform your site into almost anything you can imagine. Over 60 million people have chosen WordPress to power the place on the web they call "home" — we'd love you to join the family.
18/04/14 - Xavier Version courte La traduction présentait certains problèmes et erreurs. Nous vous conseillons de la mettre à jour : Soit en cliquant sur le bouton « Ré-installer maintenant » de votre page Tableau de bord > Mises à jour. Soit en téléchargeant le fichier fr_FR.mo corrigé et en le mettant en ligne dans votre dossier /wp-content/languages/, en remplacement du fichier fr_FR.mo en place. Par ailleurs, si […]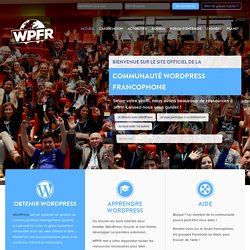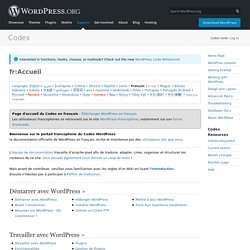 fr:Accueil Languages: English • العربية • Български • Čeština • Deutsch • Español • suomi • Français • עברית • Magyar • Bahasa Indonesia • Italiano • 日本語 • ქართული • 한국어 • ລາວ • Nederlands • Polski • Português • Português do Brasil • Русский • Română • Slovenčina • Slovenščina • Shqip • Svenska • ไทย • Türkçe • Tiếng Việt • 中文(简体) • 中文(繁體) • (Add your language) Bienvenue sur le portail francophone du Codex WordPress la documentation officielle de WordPress en français, écrite et maintenue par des utilisateurs tels que vous.