Games
Programação: clique na imagem e confira | Game Cultura
Game Changer: Investing in digital play to advance children's learning and health
Top 100 Learning Game Resources
California Games Walkthrough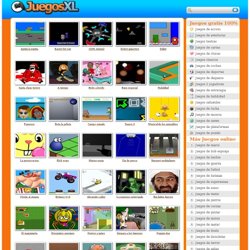 Loco al volante Eres todo un loco al volante, corre con tu coche y estate preparado porque te van a dejar un tiempo en el cual vas a poder atropellar a todas las personas que quieras, y si quieres rematarlas. Arma de pintura Este hombre esta trabajando en su oficina y se aburre muchísimo, ahora empezara a relajarse y pondrá un juego en el cual va a tener que disparar a todas las caritas que aparecen por la pantalla.
Dolphin Cup - juegosxl.com
The Elder Scrolls
Planet Elder Scrolls - Maps, News, Oblivion, Cheats, Downloads
The Elder Scrolls IV: Oblivion - Fórum do Clube do Hardware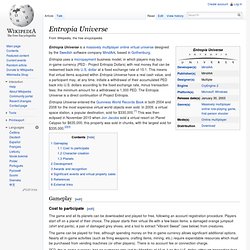 Entropia Universe
Entropia Universe is a massively multiplayer online virtual universe designed by the Swedish software company MindArk , based in Gothenburg . Entropia uses a micropayment business model, in which players may buy in-game currency (PED - Project Entropia Dollars) with real money that can be redeemed back into U.S. dollar at a fixed exchange rate of 10:1. This means that virtual items acquired within Entropia Universe have a real cash value, and a participant may, at any time, initiate a withdrawal of their accumulated PEDs back into U.S. dollars according to the fixed exchange rate, minus transaction fees; the minimum amount for a withdrawal is 1000 PED. The Entropia Universe is a direct continuation of Project Entropia.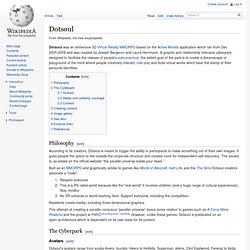 Dotsoul
Dotsoul was an immersive 3D Virtual Reality MMORPG based on the Active Worlds application which ran from Dec 2005-2009 and was created by Joseph Bergeron and Laura Herrmann. A graphic and relationship intensive cyberpark, designed to facilitate the release of people's subconscious , the stated goal of the park is to create a dreamscape or playground of the mind where people creatively interact, role-play and build virtual works which bear the stamp of their personal identities. [ edit ] Philosophy According to its creators, Dotsoul is meant to trigger the ability in participants to make something out of their own images.
Home of abandonware DOS games
J O G O D E A P R E N D E R
Aulas muito mais divertidas e produtivas SAINDO DO QUADRO propõe, através da imaginação e bom humor do autor, uma técnica que derruba alguns mitos da educação acadêmica e foge completamente da monotonia dos manuais pedagógicos. A metodologia, baseada no RPG ( Role Playing Game ), oferece subsídios para que professores de qualquer grau e disciplina transformem suas aulas em atividades animadas, interativas e, principalmente, muito produtivas. O segredo da técnica inovadora é a criação da necessidade prática do aprendizado de terminado tema.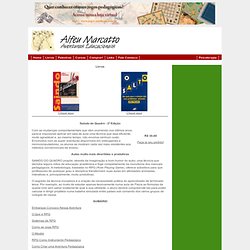 Alfeu Marcatto