Games
Programação: clique na imagem e confira | Game Cultura
California Games Walkthrough
Dolphin Cup - juegosxl.com
Planet Elder Scrolls - Maps, News, Oblivion, Cheats, Downloads
The Elder Scrolls IV: Oblivion - Fórum do Clube do Hardware
Isso tambem vale para o w810i, eu deixo a memoria interna que é de 22mb livre e sempre uns 30mbs livre no cartão, ai roda tudo sem crise. Este problema foi resolvido no w950i que vem com 4gb de memoria interna e não é expansivel, ou seja, de alguma forma vai ter que ter um pouquinho de espaço interno, isso sem levar em conta que a memoria interna do aparelho é mais rápida também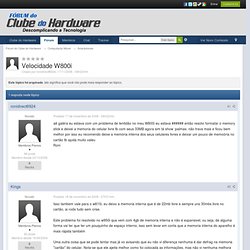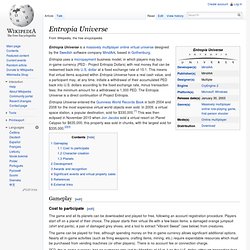 Entropia Universe
Entropia Universe is a massively multiplayer online virtual universe designed by the Swedish software company MindArk, based in Gothenburg. Entropia uses a micropayment business model, in which players may buy in-game currency (PED - Project Entropia Dollars) with real money that can be redeemed back into U.S. dollar at a fixed exchange rate of 10:1. This means that virtual items acquired within Entropia Universe have a real cash value, and a participant may, at any time, initiate a withdrawal of their accumulated PEDs back into U.S. dollars according to the fixed exchange rate, minus transaction fees; the minimum amount for a withdrawal is 1000 PED. The Entropia Universe is a direct continuation of Project Entropia. Gameplay[edit]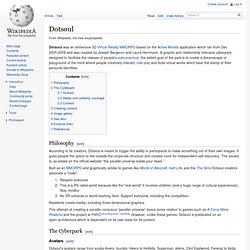 Dotsoul
Dotsoul was an immersive 3D Virtual Reality MMORPG based on the Active Worlds application which ran from Dec 2005-2009 and was created by Joseph Bergeron and Laura Herrmann. A graphic and relationship intensive cyberpark, designed to facilitate the release of people's subconscious, the stated goal of the park is to create a dreamscape or playground of the mind where people creatively interact, role-play and build virtual works which bear the stamp of their personal identities. Philosophy[edit] According to its creators, Dotsoul is meant to trigger the ability in participants to make something out of their own images.
Home of abandonware DOS games
J O G O D E A P R E N D E R
Aulas muito mais divertidas e produtivas SAINDO DO QUADRO propõe, através da imaginação e bom humor do autor, uma técnica que derruba alguns mitos da educação acadêmica e foge completamente da monotonia dos manuais pedagógicos. A metodologia, baseada no RPG (Role Playing Game), oferece subsídios para que professores de qualquer grau e disciplina transformem suas aulas em atividades animadas, interativas e, principalmente, muito produtivas. O segredo da técnica inovadora é a criação da necessidade prática do aprendizado de terminado tema.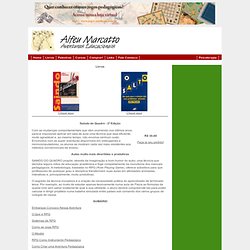 Alfeu Marcatto