Backup, Syncronization & Colaboration
Powerful software keeps your laptop and desktop computers synchronized: When you work on two computers, you always end up with different versions of the same data on both computers. Here are two safe, easy-to-use programs that will keep your computers automatically in sync: Please visit the product pages for screenshots, feature lists, demos and prices: File Sync (Files, folders, ..)Outlook Sync (E-mails, calendars, contacts, ...) Save 25 percent when you buy both synchronization programs. More Windows productivity software:
Synchronize your notebook and desktop PC!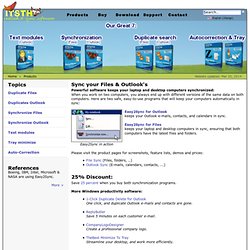 Restoring an old backup copy just isn't enough anymore! File Hamster represents the next evolutionary leap and allows you to restore your documents to any past version; even one from just five minutes ago. Automatically creates new revisions each time you save your document. Runs quietly in the background. Quickly annotate/comment on each revision. Generate reports so you can more easily review past drafts.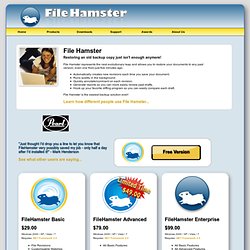 Personal Revision Control - File Hamster