Desserts
Double Chocolate Chip Cookie Recipe Inspiried by Levain Bakery's Dark Chocolate Cookies. Last week my daughter and I were watching The Best Thing I Ever Ate and I was mesmerized by the giant dark chocolate cookies from Levain Bakery in New York City that Rocco DiSpirito was going on and on about.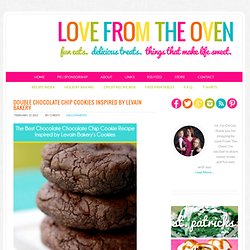 They looked like giant fudgey chocolaty deliciousness. I have not been able to get them off my mind (trust me, I've tried). Almond Joys. These are an Edwards favorite.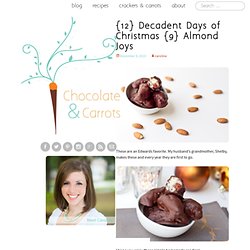 My husband's grandmother, Shelby, makes these and every year they are first to go. I hope you enjoy these simple homemade candies! Almond Joys. Lemon Square Bars. Millionaires' Shortbread. Millionaires' Shortbread has to be the ultimate indulgence of all time.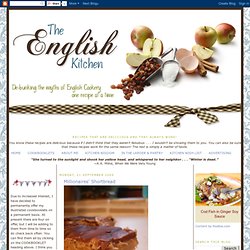 Imagine a crispy short and buttery base, spread with a totally scrumptious and rich caramel filling, and then covered with a crisp chocolate shell . . . Each bite brings you an indulgently scrumptious taste of all three together. mmmmmmmm . . . incredibly moreish . . . Oh sure . . . You could buy it . . . they sell it in all the shops . . . Vanilla Buttercream. Chocolate Buttercream. Fluffy Japanese Cheesecake. When I tried the Japanese cheesecake with the very first bite, I have been fallen in love with it ever since.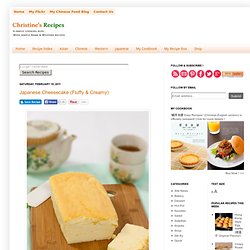 The velvety smooth, creamy, as well as the fluffy texture makes this kind of cheesecake stand out the crowd. The cheesecake is not too sweet, yet just enough to entertain your sweet tooth if you have one. Mind you, the cooking method makes the cheesecake very light, you'd feel you don't have enough even after having a big slice of it. A case in point, over half of the cheesecake was gone shortly after I placed it in the fridge. I didn't blame my daughter at all, because it's so intriguing. Sweet Potato Whoopie Pies.
This may be a tiny bit early but I figure, school's in and the weather is changing... it's time.
I've already started Autumnal baking. This means cinnamon scents and pumpkin flavored treats are well underway. Though I'm saving my pumpkin stash for goodies like this, I'll gladly take sweet potatoes as a very Southern stand-in. This was my first batch of Whoopie pies ever. Caramel Apple Sticky Buns. I'll just say it: I'm not a big fan of nuts on or in my cinnamon rolls or sticky buns.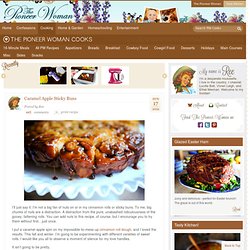 To me, big chunks of nuts are a distraction. A distraction from the pure, unabashed ridiculousness of the gooey, fattening rolls. You can add nuts to this recipe, of course, but I encourage you to try them without first…just once. I put a caramel apple spin on my impossible-to-mess-up cinnamon roll dough, and I loved the results. This fall and winter, I'm going to be experimenting with different varieties of sweet rolls. Kit Kat and M&M Cake. Today is Ad's birthday.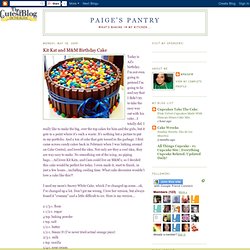 I'm not even going to pretend I'm going to lie and say that I didn't try to take the easy way out with his cake...I totally did. I really like to make the big, over the top cakes for him and the girls, but it gets to a point where it's such a waste. It's nothing but a picture to put in my portfolio. And a ton of cake that gets tossed in the garbage. I first came across candy cakes back in February when I was lurking around on Cake Central, and loved the idea. Chocolate Valentino (Cake) There is nothing like a flourless chocolate cake.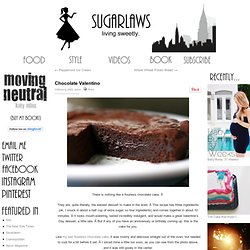 They are, quite literally, the easiest dessert to make in the wold. Cheesecake-Stuffed Carrot Cake. CakeSpy Note: This is a guest post from The Rice Kernel.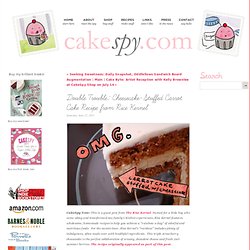 Named for a little boy who came along and transformed one family's kitchen experiences, Rice Kernel features wholesome, homemade recipes to help you achieve a "rainbow a day" of colorful and nutritious foods. For the sweets lover, Rice Kernel's "rainbow" includes plenty of indulgences, often made over with healthful ingredients. This triple strawberry cheesecake is the perfect collaboration of creamy, decadent cheese and fresh, tart summer berries. Strawberry & Chocolate Nachos. I've said it once and I'll say it again: sometimes the best creations are the ones you don't set out to create!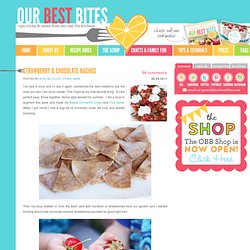 This might be my new favorite thing. It's the perfect easy, throw-together, family style dessert for summer. I did a local tv segment this week and made my Baked Cinnamon Chips and Fruit Salsa. Oven-Baked Caramel French Toast. This Mother's Day, treat your mom to a special brunch… Make her this delicious french toast!
Personally, this is a very special Mother's Day for me, since I am now the proud mother of both a son and a daughter. My little girl will be 3 weeks old this Saturday, the 7th. She is quite precious, and I am loving every second of being a mother of two! I made this for my mom when she recently visited a few weeks ago after the birth of my daughter. Nutella lava cookies | Kirbie's Cravings | A San Diego food blog sharing restaurant reviews and recipes. Wednesday, June 1, 2011 I love lava cakes. For a while now I've had this idea playing in my mind to create lava cookies.
Homemade Oreos. When I was little, my mom never really bought me and my sister many store bought cookies or toaster pastries, or anything like that, as I'm sure I mentioned before in my Pop Tart Pops post. She never really thought cookies and things like that were the healthiest things to give us, and I'm not going to disagree with her. These store-bought cookies became almost a treat for us, that we would only get to enjoy every now and then, which I guess is a good thing, because it's a habit that stuck.
S'mores Cookie Sandwiches. No campfire? No problem! You can still enjoy s'mores this Fourth of July! You know I couldn't just make the soft and chewy graham cookies that I shared a few days ago and leave it at that, right? "Best" Chocolate Chip Cookies. Lofthouse Style Cookies. Soft Lofthouse Style Frosted Cookies Unbelievably soft sugar cookies with a delicious buttercream frosting and topped with colorful sprinkles. These taste very similar to those infamous Lofthouse Cookies with frosting and sprinkles. You can find them in almost every bakery section of the grocery stores here in the United States.
The cookies themselves are not overly sweet, but pair it with the delicious buttercream frosting and you have a delicate soft cakelike cookie. PB-Stuffed Chocolate Cookies. Chocolate Brownie Cookies. Donut Muffins.
---