Recipes
How To Make Perfect Brownies | How To Cook Like Your Grandmother - StumbleUpon. I've tried lots of brownie recipes: Boxes, scratch, frosted, plain, nuts, chips, fudge … Each of them has something to like, but depending on my mood I might want a change of pace.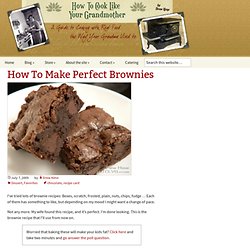 Not any more. My wife found this recipe, and it's perfect. The Brownie That Will Change Your Life - StumbleUpon. Let me start off by saying that viewer discretion is advised for today's post.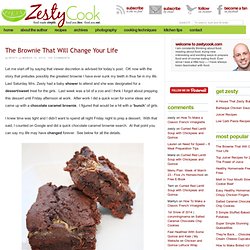 OK now with the story that preludes possibly the greatest brownie I have ever sunk my teeth in thus far in my life. Last Saturday Mrs. Zesty had a baby shower to attend and she was designated for a dessert/sweet treat for the girls. Last week was a bit of a zoo and I think I forgot about prepping this dessert until Friday afternoon at work. After work I did a quick scan for some ideas and came up with a chocolate caramel brownie. Cinnamon Roll Pancakes | recipegirl.com - StumbleUpon.
Cinnamon Roll Pancakes Updated 9/22/11 to Add: If you're coming here to sample these delicious Cinnamon Roll Pancakes, you just might like the latest recipe that I've posted for Pumpkin Cinnamon Roll Pancakes too.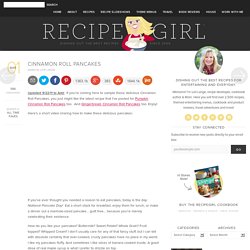 And Gingerbread- Cinnamon Roll Pancakes too. Enjoy! If you've ever thought you needed a reason to eat pancakes, today is the day: National Pancake Day. Pepperoni Pizza Puffs Recipe | gimme some oven - StumbleUpon. TGIF, friends.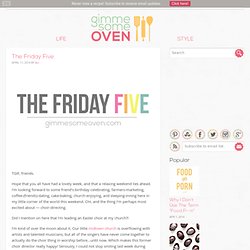 Hope that you all have had a lovely week, and that a relaxing weekend lies ahead. I'm looking forward to some friend's-birthday-celebrating, farmers-marketing, coffee-(friends)-dating, cake-baking, church-enjoying, and sleeping-inning here in my little corner of the world this weekend. OH, and the thing I'm perhaps most excited about — choir-directing. Did I mention on here that I'm leading an Easter choir at my church?! I'm kind of over the moon about it. Cinnamon Toast&Rolls - Circle B Kitchen - Circle B Kitchen - StumbleUpon. The USDA released its new food pyramid the other day (which is actually a plate now instead of a pyramid), and I am sorely disappointed to report that cinnamon rolls did not appear anywhere on that plate.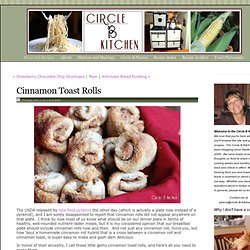 I think by now most of us know what should be on our dinner plate in terms of healthy, well-rounded nutrient-laden meals, but it is my considered opinion that our breakfast plate should include cinnamon rolls now and then. And not just any cinnamon roll, mind you, but how 'bout a homemade cinnamon roll hybrid that is a cross between a cinnamon roll and cinnamon toast, is super easy to make and gosh darn delicious. Chicken Parmesan Skillet Pot Pie. I have a thing for pot pies :) They are the ultimate comfort food right?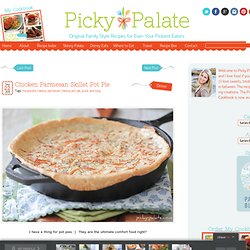 This pot pie is not your traditional pot pie, but a Chicken Parmesan Skillet Pot Pie :) You wanna know my favorite part of this dinner? It takes about 5 minutes to get into the oven.
---