Numba 3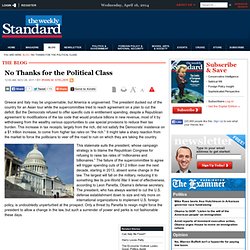 Greece and Italy may be ungovernable, but America is ungoverned.
No Thanks for the Political Class
Jim Vandehei hits upon a startling truth about money and politics in his report in Politico about Barack Obama's flip-flop on SuperPACs. The background: Obama has repeatedly denounced the unlimited donation model of SuperPACs as a "threat to our democracy" and implicitly promised that he would abjure them even it came at a political cost. But earlier this week, Team Obama got its SuperPACs.
The Corruption Of Our Entire Political Class Explained In One Paragraph
Occupy Wall Street: Contempt Of Political Class