Blogs
Technology with Intention. Tech Blog | The care and feeding of Elephants. The following is a behind the scenes walkthrough on building apps for the Pebble Smart Watch by our lead wearables engineer, Damian Mehers.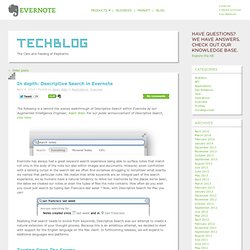 For our announcement of Evernote for Pebble, click here. When Pebble released the new Pebble 2.0 SDK and app store, it suddenly became possible to do a whole lot more with Pebble apps than before, including setting up a configuration screen for your Pebble App. In this post, I'll take you through my journey of setting up the Pebble App configuration to use OAuth to authenticate to a web service (Evernote in this case), by way of Node.js. I'll also share my experience publishing the Node.js app to Amazon's cloud services (AWS), and Microsoft's cloud services (Azure). How Pebble Configuration works. Free Technology for Teachers. Blow Me Away. Cado in piedi. The Nation. Www.beppegrillo.it. Engadget. Engadget.
Community Weblog. Lifehacker, tips and downloads for getting things done. Slashdot: News for nerds, stuff that matters. Technorati.
---