Revistas - ARQ e URB
A Escola da Cidade, Faculdade de Arquitetura e Urbanismo localizada no centro de São Paulo, abriu inscrições para cursos de pós-graduação lato sensu. O programa, que tem como tema principal "Civilização América - Um Olhar através da Arquitetura", se estrutura em três cursos: 'Habitação e Cidade', 'Geografia, Cidade e Arquitetura' e 'Ambiente Construído', este último em parceria com o Instituto Brasileiro de Tecnologia do Habitat (IBTH) da Bahia, presidido pelo arquiteto João Filgueiras Lima, o Lelé. O curso "Habitação e Cidade", organizado com a Secretaria de Habitação da Prefeitura de São Paulo, está estruturado em quatro módulos: técnicas construtivas, habitação no centro, habitação na periferia e urbanização da favela. O curso acontece na sede da Escola, de 03 de março a 18 de dezembro de 2010, e tem como coordenadores os arquitetos Ruben Otero e Luis Octávio de Faria e Silva.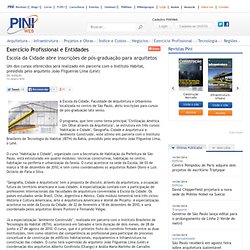 Escola da Cidade abre inscrições de pós-graduaç
Portal |  Equipo Metapoli.net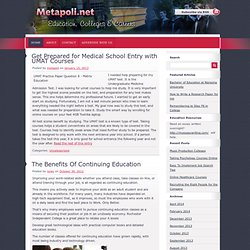 Improving your work-related skills whether you attend class, take classes on-line, or attend training through your job, is all regarded as continuing education. This means you actively seek to improve your skills as an adult student and are already in the workforce. For many years, many industries have depended on high-tech equipment that, as it improves, so must the employees who work with it on a daily basis and find the best place to Work.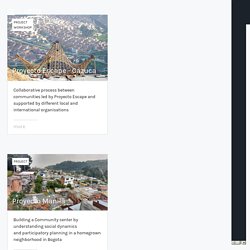 URBZ | user generated cities
Collage by AkiLee produced during the URBZ-POP Lab workshop in Shenzhen. Shenzhen, a city on the cusp of Mainland China and Hong Kong entered into our horizon thanks to a workshop organized by MoMA, during the city's magnificently mounted Architecture and Urbanism Biennial in December 2013. The workshop was held as part of a series of encounters on the theme; "Uneven Growth: Tactical Urbanisms for Expanding Megacities".
Escola da Cidade - Faculdade de Arquitetura e Urbanismo
 Arquitetura | Construção Civil, Engenharia Civi
Revista Arquitetura & Urbanismo | Janeiro de 2010 | Edição 190 -
World Urban Forum 5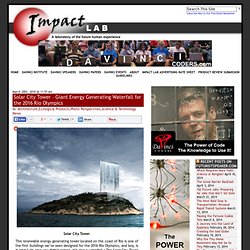 Solar City Tower This renewable energy generating tower located on the coast of Rio is one of the first buildings we've seen designed for the 2016 Rio Olympics, and boy, is it crazy! (In case you didn't notice, it's also a waterfall.) The Solar City Tower is designed by Zurich-based RAFAA Architecture & Design, and features a large solar system to generate power during the day and a pumped water storage system to generate power at night. RAFAA's goal is that a symbolic tower such as this can serve as a starting point for a global green movement and help make the 2016 Olympic Games more sustainable.
Solar City Tower – Giant Energy Generating Waterfall for the 201
 FMC Arquitetura ganha concurso para revitalizaç
O escritório Ferrés, Milani & Campanhã Arquitetura desenvolveu, em parceria com o espanhol Fondarius Arquitectura, o projeto vencedor do concurso de revitalização da rua Frei Caneca, promovido pela associação GLS CasarãoBrasil e pelo IAB-SP (Instituto dos Arquitetos do Brasil - Departamento São Paulo). Além de receber um prêmio de 5 mil reais, o primeiro colocado assinará um contrato para a elaboração do projeto executivo de arquitetura e urbanismo e a coordenação dos projetos complementares e do orçamento da obra. Com cerca de 2 km de extensão, a via interliga a Avenida Paulista à região central da cidade de São Paulo. O concurso sugeria aos participantes que repensassem o conflito entre carros e pedestres e reavaliassem, de forma mais sustentável, a conectividade da rua com seu entorno.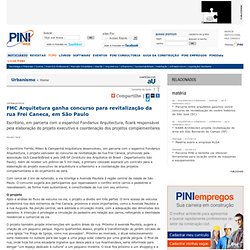 IAB-BA - Início