ESL
Coupons
Perros. Good Dog! television series | Aggressive Nipping Dogs Video | Aggressive Scary Dogs | Desensitize Touchy Dogs | Gooddogzone. Los Angeles Public Library. The New, Comfortable Dog Harness - Comfy Control Harness™ Dogs everywhere across America are begging to go for walks because now ther is the new, mesh Comfy Control Harness™.
Unlike choke collars that are really painful and can seriously injure your pet or any collar that can cause pressured pain, the Comfy Control Harness™ sends control signals to the chest and body and does not hurt the neck. So now you and your dog can enjoy an easy controlled, comfortable walk. The Comfy Control Harness™ is a conforming mesh vest that slips right on, customizes in seconds, and easily connects to the free five foot matching leash.
Even pressure on chest. Apps | Conduit Marketplace. DIY NortonLive PC Power Boost for Windows 7 or Vista. Jaws of Life needed to extract 3 teens hurt in solo-car crash in Covina. COVINA - Three Northview High School students suffered major injuries Friday in a solo-car crash on a residential street, authorities said.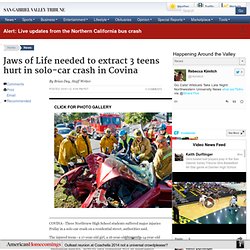 The injured teens - a 17-year-old girl, a 16-year-old boy and a 14-year-old girl were taken to Los Angeles County-USC Medical Center with "substantial injuries," however their conditions were no immediately clear, Los Angeles County Fire Department Battalion Chief Jim Enriquez said. The crash took place about 3 p.m. on Edna Place, just east of Armel Drive, near an S-turn neighbors said has seen more than its fair share of crashes. The Ford Taurus was eastbound on Edna Place and had just passed through the S-turn at an unknown speed when the car veered toward the right side of the road and struck a tree, Covina police Sgt. Jim McDonough said. English Lesson Plans - Free ESL EFL Lessons in Grammar, Reading, Writing, Speaking and Listening.
English lesson plans for beginner, intermediate and advanced levels including reading, writing, listening, grammar, speaking, pronunciation for adult and childrens' classes as well as Business English.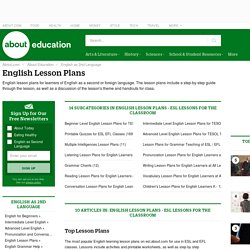 English Language Levels - Rubric to ESL LevelsThis rubric provides English language level guidelines and expectations for learners at four different levels. Speaking and pronunciation, reading, writing and listening skills and capabilities are described in detail for each of these levels to help teachers and learners establish the correct English learning level either before a course... ESL PrintablesESL printables materials for the English learning classroom which can be printed and used in ESL EFL lessons. ESL Debate LessonsThis lesson plan is based on the idea that having students support opinions that are not necessarily their own during debates can help improve students fluency.
---