Interactive agencies foreign
Hook | Interactive and Commercial Art. Interuptive - an Idea-based Interactive Agency based in Singapor. Albion London - a digitally-minded integrated advertising agency. Tool of NA Digital. Goodby, Silverstein & Partners : Work. Bridge Worldwide – A Leading Digital and Relationship Marketing. Creating the Difference - Futurecom ist das führende Schweizer U.
Wieden+Kennedy | Full Service Integrated Advertising Agency. AKQA.COM. Situation Interactive - An Entertainment Marketing and Interacti. G2 Direct & Digital. Lean Mean Fighting Machine. Big Ideas come out of Big Pencils. Razorfish. I hold a dual role within Publicis Groupe, serving as both active Chief Strategy and Innovation Officer at VivaKi — a global leader in digital advertising solutions — and Chair for leading digital agencies DigitasLBi and Razorfish.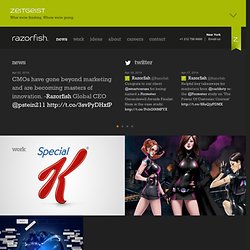 At VivaKi, my team and I focus on incubating new ideas, approaches, partnerships and models for the next generation of data-driven marketing, storytelling, brand rethinking and the next two billion customers (China and India). In order to achieve these goals, I am responsible for Emerging Opportunities and Partnerships for VivaKi/Publicis Groupe. Emerging Opportunities includes co-creating the future with startups (VivaKi Ventures), media companies (The Pool) and brands (Finch 15). Partnerships includes working closely with Publicis Corporate and the leadership of Google, Facebook, Microsoft, Apple and many other global technology platforms, as well as a range of ad-tech specialists (BlueKai, Medialets, Adelphic Mobile). Made by Many.
---