FB
Get flash to fully experience Pearltrees
Facebook is ready to go big with its Facebook Credits virtual currency: the company announced that all developers will have to use the credits in their apps starting July 1. The move takes Facebook Credits out of beta and will make it the main payment system for all apps, with Facebook getting a 30 percent cut of the action. But the transition to Facebook Credits is not just about Facebook getting a cut of Farmville virtual transactions. This is about Facebook ultimately starting its own online payment system that could be used to buy a lot of different goods and stretch beyond the boundaries of the social network. Facebook Credits was first launched in beta last year and though it forced developers to hand over a big chunk of their revenue, Facebook sold them on the system by emphasizing its ease of use and how well it monetizes with users.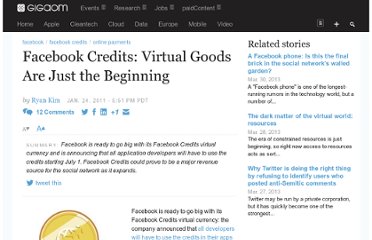 Bonjour! Si vous visitez Emarketinglicious pour la 1ère fois, abonnez-vous à notre flux RSS pour recevoir nos dernières actualités. A l'origine, cet article devait s'appeler "Les meilleures pages Facebook de marques françaises". Cependant j'ai échoué à le réaliser dans la mesure où je trouve que les pages facebook de marques françaises sont moins bien réussies que leurs homologues américaines, surtout au niveau de l'engagement des fans.
Facebook is huge. With the average user connecting to 80 community pages, groups and events and with over 900 million (!) objects that users love to interact with (pages, groups, events and community pages), Facebook pages are massive and with a well thought layout they will prove to be a very valuable business asset and a great experience for the user.
Facebook has just announced Places , the long-awaited feature that brings location-based functionality to the most popular social network in the world. Whether you're a developer with a great app idea, a business with an interesting location marketing plan or just a regular Facebook user who wants to get involved with Places, there are a few details to note before you start using Places. The feature is fascinating, but it still has its limitations.
Today Facebook made a significant announcement: publishers can now publish content to the feeds of all people who liked a specific page. This is a significant step forward in the opening of Facebook Page functionality to the entire web. Also as part of the announcement, Facebook announced a minor, yet significant, upgrade that will convert all iFrame like buttons into share buttons as well. This is the second step of Facebook providing all pages on the internet with the same tools that all Facebook Pages have.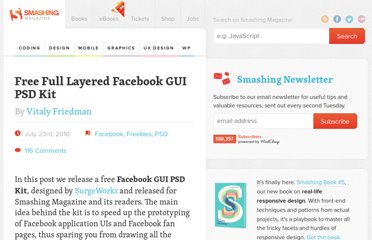 In this post we release a free Facebook GUI PSD Kit , designed by SurgeWorks and released for Smashing Magazine and its readers. The main idea behind the kit is to speed up the prototyping of Facebook application UIs and Facebook fan pages, thus sparing you from drawing all the comps and letting you customize all the texts, buttons and data as you need. As usual, the kit is free to use in all projects, without any restrictions.