ARTS
Sand Art
Jackson Pollock by Miltos Manetas, original design by Stamen, press any key to s - StumbleUpon
The size of Ron Mueck |
Visit Chihuly: Through the Looking Glass at the MFA - StumbleUpon
Drowning Beautiful | - StumbleUpon
SlashTHREE - Viewing Entry - SOCIETY - StumbleUpon
Real Life Version of Up | Fubiz™ - StumbleUpon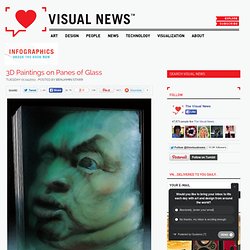 3D Paintings on Panes of Glass - StumbleUpon
Using multiple layers of clear glass, Canada based David Spriggs and Chinese born Xia Xiaowan, transform flat artwork into 3D sculptures. Viewers are treated to different shifting perspectives of the works based on where they stand in the art space. Spriggs work revolves around powerful explosive imagery, often resembling storms, cosmic blasts or firework like explosions.
How 10 Fantastic Poster Designs Conform to A.I.D.A - StumbleUpon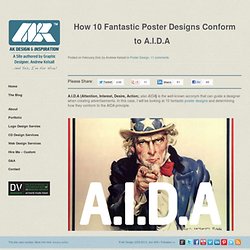 A.I.D.A (Attention, Interest, Desire, Action; also AIDA) is the well-known acronym that can guide a designer when creating advertisements. In this case, I will be looking at 10 fantastic poster designs and determining how they conform to the AIDA principle. Like this type of article? Why not subscribe for Free via RSS or Email Here's what the AIDA acronym stands for:A → Attention (also, Attraction, Awareness or Allure): Attract the attention of the target audience (viewer of the poster design in this case).I → Interest: Garner the Interest of the target audience by outlining the purpose of the design.D → Desire: Convince the target audience that they want the product or service and that it will satisfy their requirements.A → Action: Lead the target audience towards taking a specific and measurable action.
ric stultz 2011 - StumbleUpon
- StumbleUpon
- StumbleUpon
Histoires drôles de jouets | La boite verte - StumbleUpon
Dream Big by Peter Fecteau | koikoikoi - StumbleUpon
LIZ WOLFE - StumbleUpon
The Embroidered Secrets of Maurizio Anzeri | Yatzer& - StumbleUpon
Ananas à Miami: Illustrations by Mike Mitchell - StumbleUpon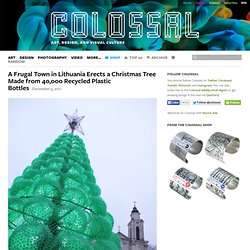 Okay municipalities of the world, pay attention. For a third consecutive year the city of Kaunas, Lithuania approached artist Jolanta Šmidtienė to assist with their annual holiday decorating. Recognizing the city's somewhat dire financial state the artist challenged herself to build something that wouldn't rely on any administrative funds set aside for the event.
A Frugal Town in Lithuania Erects a Christmas Tree Made from 40,000 Recycled Plastic Bottles | Colossal - StumbleUpon
How To Steal Like An Artist by Austin Kleon
Yuki Matsueda