fIlm-making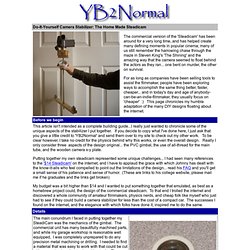 This article isn't intended as a complete building guide...I really just wanted to chronicle some of the unique aspects of the stabilizer I put together. If you decide to copy what I've done here, I just ask that you give a little credit to 'YB2Normal' and send them over to my site to check out my other work. To be clear however, I take no credit for the physics behind why this works, or even the overall design.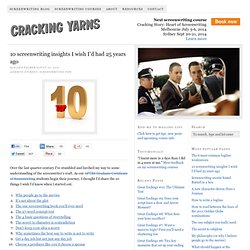 Over the last quarter century I've stumbled and lurched my way to some understanding of the screenwriter's craft. As our AFTRS Graduate Certificate of Screenwriting students begin their journey, I thought I'd share the 10 things I wish I'd know when I started out. 1. Why people go to the movies If you're making films to be viewed by the cinema-going public, it would seem pretty obvious that you should seek to understand why people go the movies, wouldn't it? Not to me.
Ever wonder what all those strange credits are when they roll by at the end of a film? I used to, until I moved to LA, where I started meeting Best Boys and Dolly Grips with their kids when I took my son to the playground—yes, Hollywood, where you meet Gaffers and Armourers at your average Saturday night house party. So I started asking questions, and here's what I've learned: 1. Boom Operator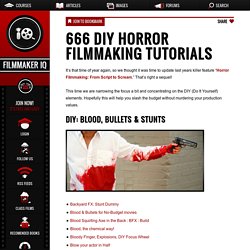 It's that time of year again, so we thought it was time to update last years killer feature "Horror Filmmaking: From Script to Scream." That's right a sequel! This time we are narrowing the focus a bit and concentrating on the DIY (Do It Yourself) elements.
In this exclusive SoundWorks Collection sound profile we visit Park Road Post Studios in Wellington, New Zealand to talk with the sound team of Director Peter Jackson's The Hobbit: The Desolation of Smaug. Featured interviews include Re-recording Mixer Michael Hedges, Re-recording Mixer Chris Boyes, Re-recording Mixer Michael Semanick, Re-recording Mixer Gary Summers, Composer Howard Shore, and Producer & Co-Screenplay Writer Philippa Boyens.