Music
MP3crank.com - Free MP3 Downloads. Free File Sharing Made Simple - MediaFire. How To Digitally Sell Your Album on The iTunes Music Store. As an independent artist, you'll probably be very familiar with the fact that digital downloading is huge -- and you're probably wondering how to get your cut of the action!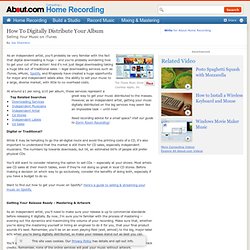 And it's not just illegal downloading taking a huge bite out of traditional sales -- legal downloading services such as iTunes, eMusic, Spotify, and Rhapsody have created a huge opportunity for major and independent labels alike: the ability to sell your music to a large, diverse market, with little to no overhead costs. At around $1 per song, $10 per album, these services represent a great way to get your music distributed to the masses. Sell Music on iTunes - How To Do It. PLEASE READ: Because you demanded it, ALL pricing, UPC/ISRC, and Digital Distribution info below is now up to date as of 3/2/2012!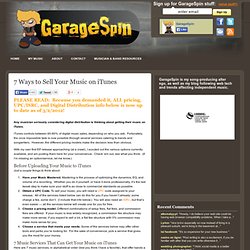 Any musician seriously considering digital distribution is thinking about getting their music on iTunes. iTunes controls between 60-80% of digital music sales, depending on who you ask. Fortunately, the once impossible task is now possible through several services catering to bands and songwriters. However, the different pricing models make the decision less than obvious. With my own first EP release approaching (at a crawl), I scouted out the various options currently available, and am posting them here for your convenience. Is CD Baby or Tunecore the best music distribution company? Rhapsody :: Subscription Music Service: Listen All You Want: Millions of Songs.
---