Inspiration Blogs
Celyn / Kew Gardens Grow Wild Campaign Celyn worked with Kew Gardens again on their £10.5m Grow Wild Scheme to bring people and communities together to sow, grow and support UK native wild flowers. The Grow Wild Scheme encourages … Read more about 'Celyn / Kew Gardens Grow Wild Campaign' Oscar Wilson / Virgin Money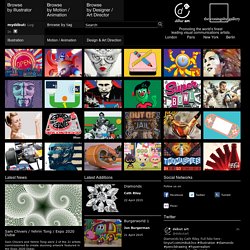 Doodlesplatter
New Prints for High Above the Street Jon made three new prints for the Thursday, October 6th opening of High Above the Street, a retail space in Leeds, UK featuring over 80 brands and over 40 artists. The prints are signed and numbered in an edition of 25 each. They're printed on Photo Rag Satin, 308gsm, size A2 (42cm x 59cm) for £100 (a 20.0% VAT will be removed for non EU customers).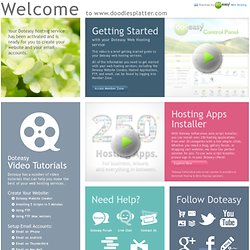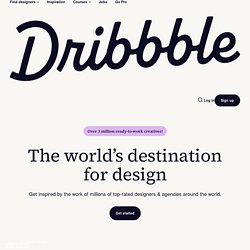 Toggle navigation What are you working on? Dribbble is show and tell for designers. Learn more Sign up ← Prev Next →
More than 400 invited guests attended the opening event of The Art Hunter in Sydney on Tuesday night. The Art Hunter launch is a collaboration between The Cool Hunter and Jaguar, and the opening night was also the Australian debut of the spectacular Jaguar C-X17 concept car. To present The Art Hunter, we engaged our dream team of collaborators, led by the incomparable Natalie Longeon and Peter Pengly from The Artistry (they designed and executed our Summer Lovers Rotate store as well), to transform a 500 m2 warehouse in Alexandria into a genuinely exciting, temporary three-week art exhibition experience. The Art Hunter is not a white-walled space where you quietly walk past pieces of art. Instead, it is an eclectic and vibrant environment where every wall is a different color (by our paint sponsor Taubmans), where there is no natural light and where the work of more than 40 artists, curated by us, is not only on display but also for sale.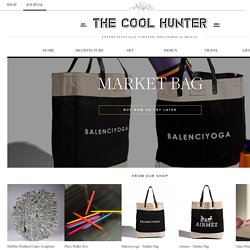 'Monstrous Days and Cryptidbits' from Jason Limon... releasing today! Who's ready for an online exhibition and art show from Jason Limon??? Well, Jason informs us that he has had quite a few online shows in the past and felt that they miss an important step... which would be the exhibition part. So in an attempt to change that up a bit Jason decided that he would create four to five bodies of art throughout the year, set some release dates and do a physical pop-up show before they go online. The idea is to set up small one-night exhibitions in different places before he releases any art online. So what can you come to expect... well, most of the the art he'll be making this year will be based on monsters and cryptozoology, some roughly based on actual stories and others from my his own head.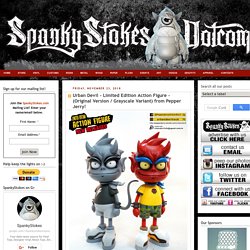 SpankyStokes.com | Vinyl Toys, Art, Culture, & Everything Inbetween
Super7 Blog - Home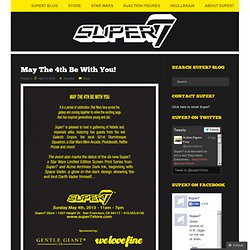 Who knows what surprises await inside the Gargamel Lucky Bags!? Available Thursday, January 16th, 12Noon PST. $300ea. Powered by the crystalized core of a dying star, enslaved by the Immortal Space Emperor Phantos, Crystal Mecha is flying through Outer Space to destroy your world! The Metallic Monster is cast in blazing red vinyl with black and metallic gold sprays, superheated and charred as he enters the atmosphere of the Earth, while his superdense crystal head is cast in translucent milky-white vinyl with soft metallic blue sprays. Available Thursday, January 16th, 12Noon PST, $95 each. Giant monsters attack our cities!
Kidrobot has just posted a few teaser shots of what they've got going on. By the looks of it, they seem to be in cahoots with 4 radioactive turtles that are huge fans of pizza. This new line of TMNT figures features, 4" Donatello, Leonardo, Michaelangelo, and Raphael Munnys, a TMNT 3" blind box series, which has Master Splinter, Shreddar, Krang, Beebop, Rocksteady, Foot Clan Ninja, and of course the 4 ninjas, they also went big with a 7" Bebop and Rocksteady release.
Vinyl Pulse|Daily News About Designer Toys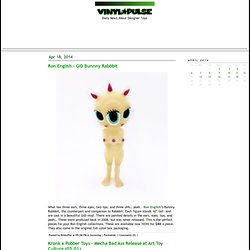 Computer Arts is the magazine for people who believe design matters, and has been inspiring and informing graphic designers and illustrators since 1995. With both a deluxe print edition and a fully-interactive, bespoke iPad edition, Computer Arts brings you behind-the-scenes access to cutting-edge design projects, in-depth analysis and incisive opinions from the design world's thought leaders, plus the very best new work from the global design community. Whether it's a shift in creative thinking or a change to the business of design, you can rely on Computer Arts to bring you detailed analysis of the pivotal events.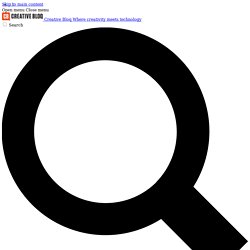 Kidrobot Blog
KAWSONE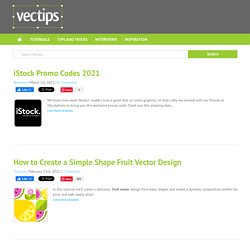 If you're about to create an app, website, or really anything relating to the graphic design field or just looking to increase your collection of resources, here you will find the best free stuff! Each month, we're going collect our favorite vector and Illustrator freebies to feature in a roundup. Here is the second edition of this series, so check out these awesome vector icons, patterns, banners and other useful Illustrator resources! Have other freebies you'd like to share with the Vectips community? We'd love to know–just leave a comment below.
Blog | Jeremy Loves Popjects
We've reached the finale of Toys by Design for Design Bureau, and I'm "chuffed" to conclude my column with that polymath, Pete Fowler. Here's an artist who was an early player in the designer toy game, but he didn't pause on plastic. In fact, he didn't pause at all. For over a decade, Pete Fowler has let loose a panoply of woodland critters and seafaring sprites in mediums as disparate as toys, trophies, tables and thread.