Lesson plans and resources
ATTENTION Students: You will have realised by now that doing well at AS or A-level Physics isn't always about how good you are at Physics. Most of the time it's about how good you are at Physics exams and how you revise for them. "Revise AS Physics in a Fortnight" is a brand new concept in A-level Revision Guides. It is totally exam focussed - the whole aim is to get you a better a grade in your AS Physics. Other AS Physics Revision Guides out there on the market all do the same old thing - they go through all the topics in the same order as you were taught them, using the same old tired examples.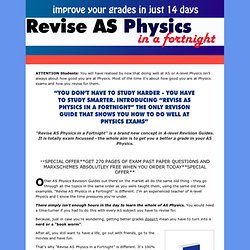 Revise AS Physics In A Fortnight - The Best AS Physics Revision Guide Around
TAP Homepage
RanelaghALevelPhysics - ASUnit2_2009_10
K Taggarts website
KS5 Physics - Edxcel
7.3 Hubble's law-CLICK HERE PLEASE! Posted on February 1, 2010 by links4science 7.2 Starshine-CLICK HERE PLEASE!