How to...
Samsung Galaxy S2 - Hard reset (ITVraag.nl) [ROM+Guide]Official i9100 Firmwares KL1/2/3/LA2,4/LB2,LPE/Q/7/2/F/S/4/7/G Download. Official Firmware files Quote: Firmware info PDA:XWKDD PHONE: XXKDH Build date: 26/04/2011 MultiCSC (AUT, COS, CYO, DBT, DCM, DNF, EUR, FWB, KOR, LUX, NEE, O2U, OMN, ORS, PAN, PLS, SEB, SUN, SWC, TMS, TPH, VDH, VIA, VOM, XEE, XEH, XEO, XEZ, XSK): XWKDD Stock Kernel: Password is: intratech@XDA.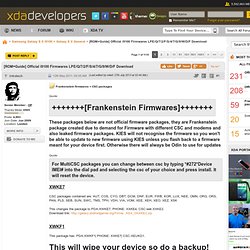 Tutorial instalare Android 2.3.4 pe Samsung Galaxy S2 Stock – XEU(Europe) : SMARTMOBILES.ro. Coduri secrete specifice telefoanelor Samsung : Samsung. *#1111# S/W version*#1234# Firmware version*#2222# H/W version*#92782# WAP UserAgent: Phone mode name etc...#*5737425# JAVA Mode*#2255# Call List*#232337# Bluetooth MAC Adress (Local BT address)*#5282837# Java Version#*4773# Incremental Redundancy#*7752# 8 PSK uplink capability bit#*7785# Reset wakeup & RTK timer cariables/variables#*1200# ?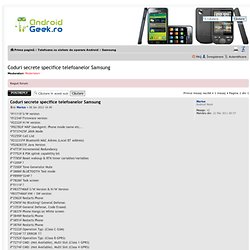 #*7200# Tone Generator Mute#*3888# BLUETOOTH Test mode#*#8999*324# ? #*7828# Task screen#*5111# ? #*#8377466# S/W Version & H/W Version*#8377466# HW / SW version#*2562# Restarts Phone#*2565# No Blocking? General Defense.#*3353# General Defense, Code Erased.#*3837# Phone Hangs on White screen#*3849# Restarts Phone#*3851# Restarts Phone#*3876# Restarts Phone#*7222# Operation Typ: (Class C GSM)#*7224# !!! ERROR !!! The Complete Review Of MIUI ROM For Android [Walkthrough & Guide] Whether it's Mobile Internet User Interface, or My iPhone User Interface, MIUI ROMs and ports have managed to move from being just a Chinese initiation with Chinese language and locale, to one of the most downloaded and desirable ROMs and ports out there.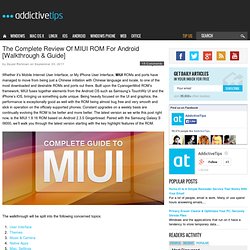 Built upon the CyanogenMod ROM's framework, MIUI fuses together elements from the Android OS such as Samsung's TouchWiz UI and the iPhone's iOS, bringing us something quite unique. Being heavily focused on the UI and graphics, the performance is exceptionally good as well with the ROM being almost bug free and very smooth and slick in operation on the officialy supported phones. Constant upgrades on a weekly basis are continually evolving the ROM to be better and more better. Android Advices - Android Devices Rooting Firmware Updates Reviews News Ratings & More. Latest News Tips & Tutorials about Samsung | Android Advices. The Handheld Blog. Samsung Galaxy S II. 08 Jul Posted by Jayce Ooi as Software Who want to try out Odin3 v3.09?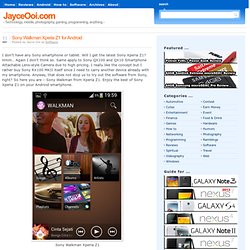 How to install firmware on Samsung Galaxy S2 with Odin? (Video) 08 Aug Posted by Jayce Ooi as How to How to install firmware on Samsung Galaxy S II?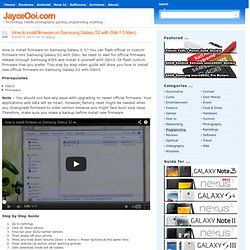 You can flash official or custom firmware into Samsung Galaxy S2 with Odin. No need to wait for official firmware release through Samsung KIES and install it yourself with Odin3.
---