R
R, Ruby, and Finance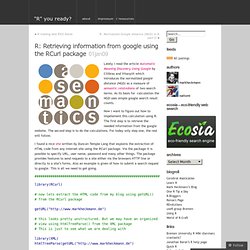 R: Retrieving information from google using the RCurl package 01Jan09 Lately I read the article Automatic Meaning Discovery Using Google by Cilibras and VitanyiIt which introduces the normalized google distance (NGD) as a measure of semantic relatedness of two search terms. As its basis for calculation the NGD uses simple google search result counts. Now I want to figure out how to impelement this calculation using R.
R: Retrieving information from google using the RCurl package « "R" you ready?
Statistics, R, Graphics and Fun | Yihui Xie
Module 8: Principle Components Analysis, Factor Analysis and Related Principle Components Analysis, Maximum Likelihood Factor Analysis & scale reliability Data generation and simulation of various Factor Analytic Models. An example of Bootstrapped Factor Analysis Using weighted factor scores as Composite Indicators
RSS R Introduction Course
Machine Learning in R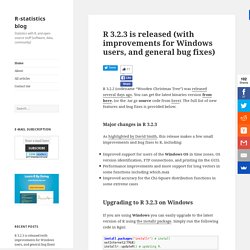 R 3.1.0 (codename "Spring Dance") was released today! You can get the source code from http://cran.r-project.org/src/base/R-3/R-3.1.0.tar.gz or wait for it to be mirrored at a CRAN site nearer to you. Binaries for various platforms will appear in due course. The full list of new features and bug fixes is provided below.
Excel Charts Blog posted a video tutorial of how to create a circumplex or rose or dougnut chart in Excel. Apparently this type of chart is very popular in the consulting industry, hence the "Consultants' Chart". It is very easy to make this chart in Excel 2010, but it involves countless number of clicks and formulas to format both the source data and the chart itself. In ggplot2 the same can be achieved with around 10 lines of code, as can be seen below.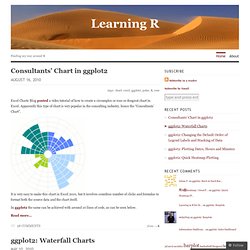 The pre-NYT David Brooks liked to make fun of the NYT. Here's one from 1997: I'm not sure I'd like to be one of the people featured on the New York Times wedding page, but I know I'd like to be the father of one of them. Imagine how happy Stanley J. Kogan must have been, for example, when his daughter Jamie got into Yale. Then imagine his pride when Jamie made Phi Beta Kappa and graduated summa cum laude. . . . he must have enjoyed a gloat or two when his daughter put on that cap and gown.And things only got better.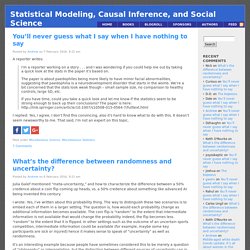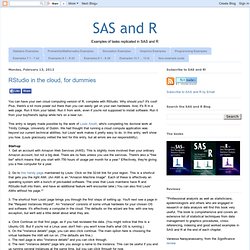 You can have your own cloud computing version of R, complete with RStudio. Why should you? It's cool!
RStudio in the cloud, for dummies
Scraping organism metadata for Treebase repositories from GOLD using Python and R Scraping organism metadata for Treebase repositories from GOLD using Python and RI recently wanted to get hold of habitat/phenotype/sequencing metadata for the individual organisms of an archived Read more » Two R tutorials for beginners Two R tutorials for beginnersI am currently in the process of rescuing some of the pages from my now defunct datajujitsu.co.uk blogger blog and moving to this Github/Clojure/Bootstrap version.... Read more »